Wednesday, 29 April 2015, Issue 
#44
BIRD

Weekly Newsletter
In this Issue
•

Open Letter to President Obama

 •

 Prison Torture 

•

 UK Foreign Policy

 •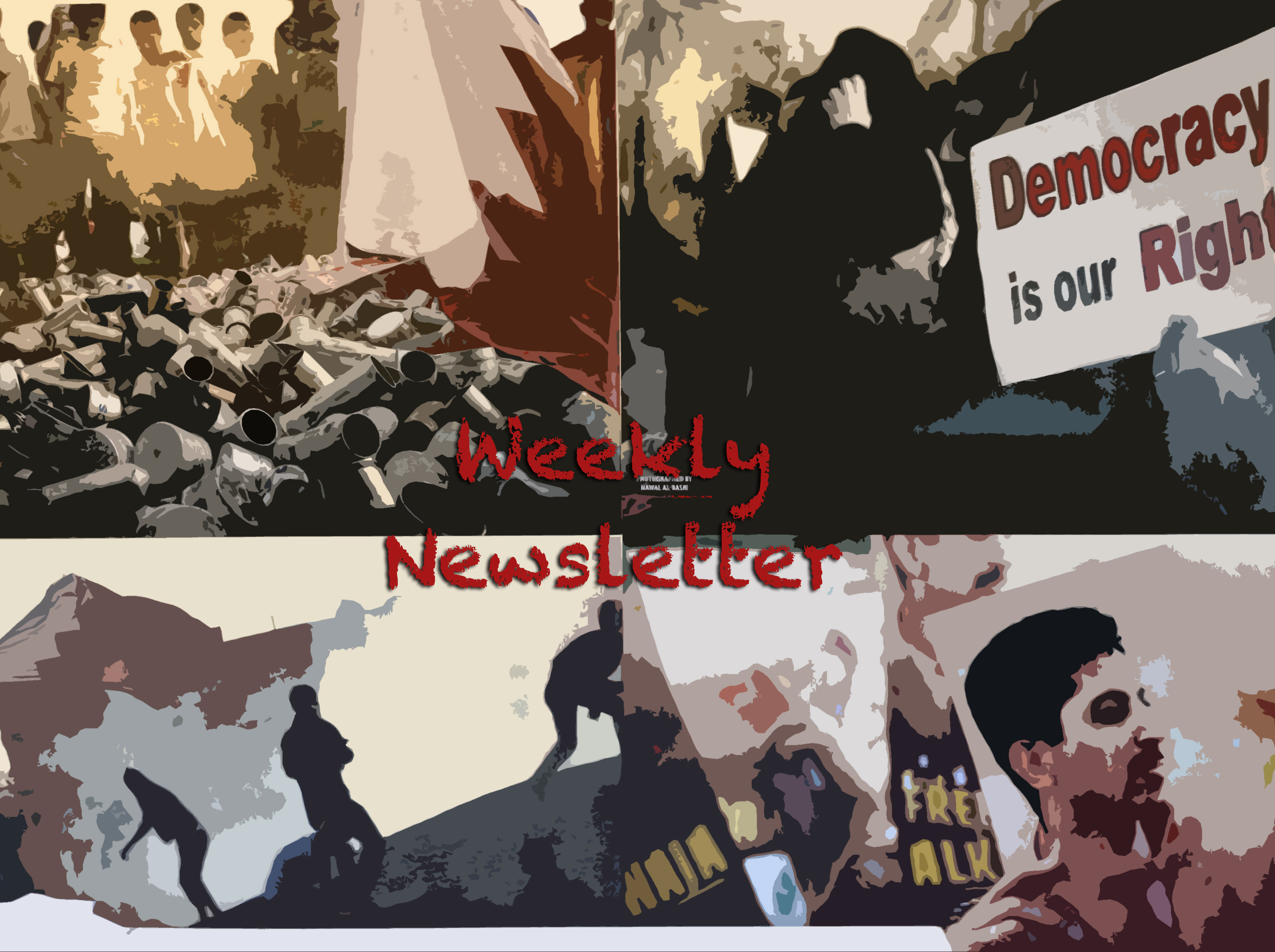 Open Letter to President Obama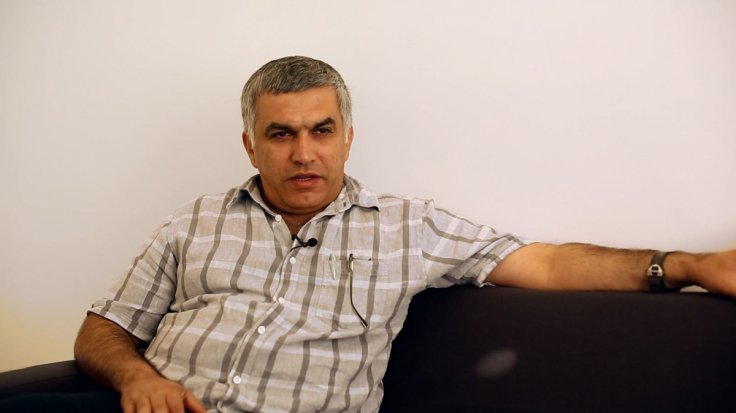 Bahraini human rights activist Nabeel Rajab is in jail in Bahrain over comments he made on Twitter about the Saudi-led war against Houthi rebels in Yemen.
Now as Barack Obama prepares to host Bahrain's King Hamad and other Gulf Cooperation Council leaders at Camp David in May,  Husain Abdulla, the Executive Director of Americans for Democracy and Human Rights in Bahrain, is urging the US president to raise the case in an open letter, published by IBTimes.
Read the full letter here
Take Action
10 Years for a Tweet: Free Bahrain's Nabeel Rajab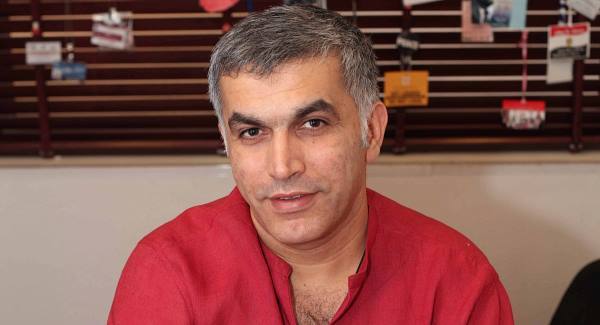 Nabeel Rajab was detained and sentenced to six months for a tweet. He has now been re-arrested and is facing 10 years for more tweets, this time criticising the killing of civilians in Yemen. Write to your MEP now and ask him or her to push for the immediate release of Nabeel and for the government of Bahrain to drop all the charges against him.
Life at the Receiving End of UK Foreign Policy
Interview with Alaa Shehabi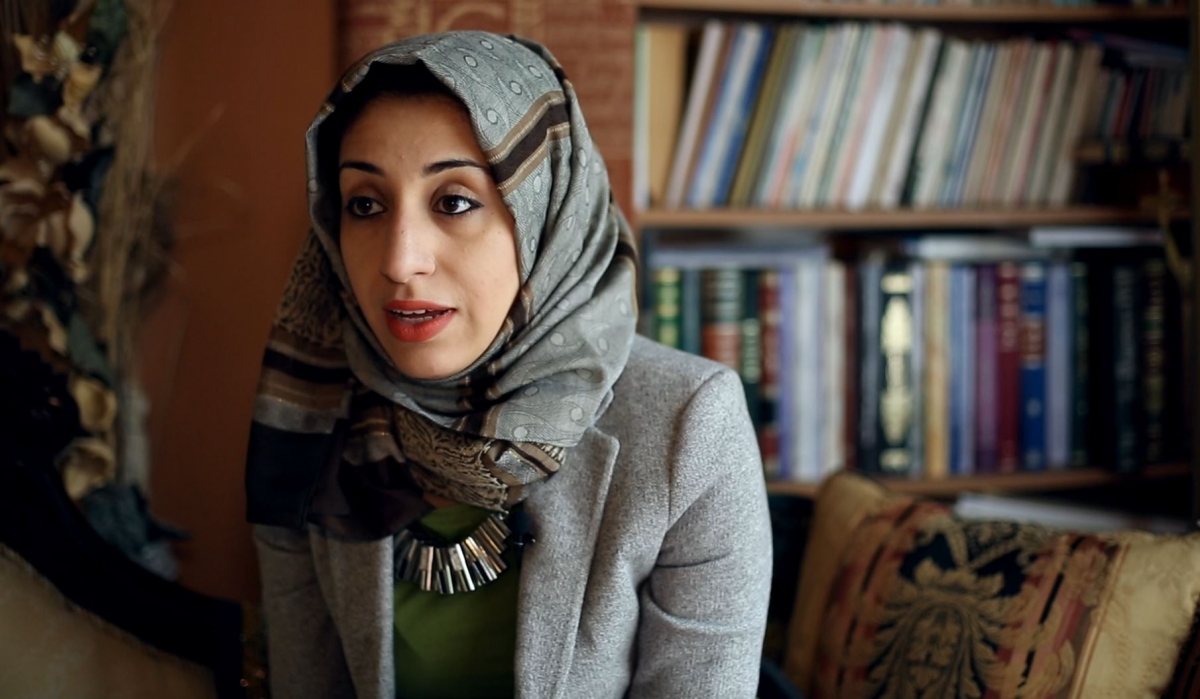 New Left Project, 24 April 2015 – In February 2011 large scale protests inspired by the Arab Spring erupted against the Bahraini government, an ally of the United States and United Kingdom. Rooted in the country's majority Shi'a population and propelled by socio-economic inequality and perceived government corruption, the protestors initially pushed for political reform and escalated soon thereafter to demands for regime change. Headed by the ruling Al Khalifa family, the Bahraini government has forcefully cracked down on the demonstrations, killing and injuring hundreds of people and arresting thousands.
Ian Sinclair asked Dr. Ala'a Shehabi, founder of the research and advocacy organisation Bahrain Watch, about the ongoing struggle between the opposition and the government, the November 2014 national elections in Bahrain and the role of the UK.
Read the full interview here
Updates from the
Ground
17

 arrested including 

4

 children and

 

3

 women
26 sentenced to a total of 327 years in prison
3 sentenced to three months imprisonment for "abusing a sister country through social media".
Imprisoned photographer Sayed Ahmed Mousawi in solitary confinement for 

5

 days.
Detention of 

Nabeel Rajab

extended for 15 days.
Trial of 9 defendants accused of "insulting the Saudi Arabian King" on Twitter postponed.
Trial of Ali Salman, head of Al Wefaq, postponed to 20 May.
Detainees at Bahrain's central prison "Jau" allege that torture is ongoing.
#
Twitter

Nation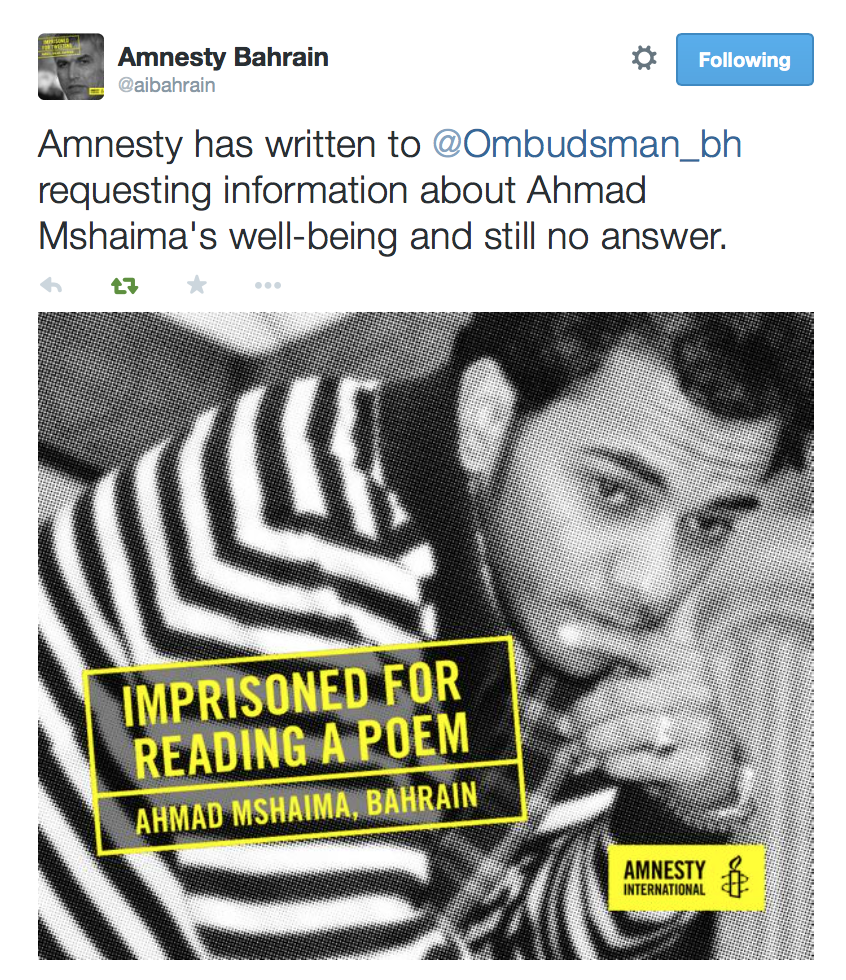 Weekly
Highlights
The EU cannot overlook its human rights commitments in the East
The Struggle for a Democratic Bahrain
Blocking people's vision of democracy: Revisiting the Arab uprisings #ArabAwakening
News & Commentaries
IBT: Barack Obama 'must push King Hamad to free Nabeel Rajab', Bahrain's Nelson Mandela
Index on Censorship: Bahrain Extends Detention of Human Rights Defender
AJE: Bahrain's Crackdown on Free Speech Could Inflame Sectarian Tensions
FIDH: Bahrain: Continued judicial harassment and arbitrary detention of Mr. Nabeel Rajab
Middle East Eye: Leading Bahraini Activists Detention Extended