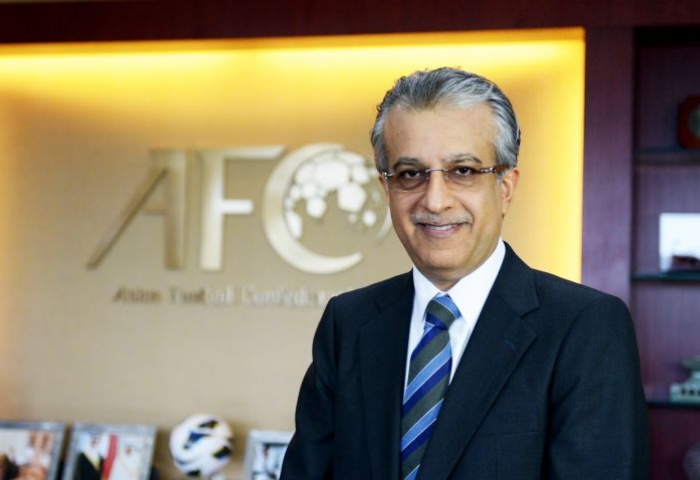 12 November 2015 – The Fifa Electoral Committee has accepted Sheikh Salman Bin Ebrahim Al Khalifa as a candidate for presidency, following an integrity check conducted by the Fifa Ethics Committee, despite credible evidence that Sheikh took part in serious human rights abuses. BIRD and ADHRB are shocked and condemn the decision that has severely undermined any remaining trust in Fifa and the Ethics Committee integrity checks.
On 3 November, the Bahrain Institute for Rights and Democracy and Americans for Democracy & Human Rights in Bahrain submitted evidence to the Fifa Ethics Committee presenting our concerns and evidence of Sheikh Salman's involvement in human rights violations in Bahrain, during his tenure as president of the Bahrain Football Association. This followed complaints submitted to FIFA in January 2014 regarding Sheikh Salman's role in the targeting and identification of footballers in Bahrain who took part in anti-government protests and later arrested and tortured.
Fifa states: "The integrity check included a review of corporate records, litigation cases, bankruptcy proceedings, potential regulatory actions taken against the candidate and a review of media reports concerning potential red flags (fraudulent behaviour, match manipulation, human rights violations, etc.)."
Sheikh Salman's human rights record has been under intense scrutiny and public concern since his decision to enter the election. The integrity check concluded on 9 November and the electoral committee, headed by Domenico Scala, today announced the decision of their review. Despite evidence implicating Sheikh Salman in the abuse of footballers, Sheikh Salman passed his integrity check and is officially in the running.
Sayed Ahmed Alwadaei, Director of Advocacy, BIRD: "Fifa wants a blank slate from corruption, so we were keen to help them with the submission of our evidence. Yet it has fallen on deaf ears. Today's decision is a black mark on world football."
He added: "It seems there is no end to the corruption in FIFA and they have just added human rights abuser to their profile."
Sheikh Salman, current president of the Asian Football Confederation and a member of the Bahrain royal family, was previously the president of the Bahrain Football Association (BFA) until 2013. The 22-page dossier from NGOs to Fifa presented official reports by the Bahrain News Agency, the official press arm of the Ministry of Information, which show the BFA's complicity in rights violations committed by the Bahrain government against Arab Spring protesters in February-April 2011.
Sheikh Salman described claims of his involvement "nasty lies" following years of denial of involvement. His spokesperson recently stated: "While it was proposed that Sheikh Salman lead a fact-finding committee in relation to the events of 2011, that committee was never formally established and never conducted any business whatsoever." All the evidence strongly contradicts this assertion. The Bahrain Ministry of Information's own reports state that the committee had met at least once in early April 2011.
Husain Abdulla, Executive Director, ADHRB: "The lie here is Fifa's commitment to reform. It does not make sense for an organisation caught in scandal to then allow a man with a record like Sheikh Salman's to run for its leadership. Fifa has completely missed the mark today and its integrity checks have been exposed as a farce."
Sheikh Salman's Role in the Detention and Torture of Footballers
On 3 April 2011, Prince Nasser bin Hamad, a son of the King of Bahrain and president of the Bahrain Olympic Committee and the Supreme Council for Youth and Sport, appeared on state-run channel Bahrain TV. He threatened protesting athletes, and said that their "judgement day" has come. On 4 April, two players including national team star striker Ala'a Hubail were called into the same TV show by the hosts. The show's presenters and guests called them traitors. The following day, Hubail was arrested. Ala'a Hubail suffered torture, and on his release fled to Oman.
On 7 April, the state-operated Bahrain News Agency reported that the BFA, in support of Prince Nasser, would be investigating all footballers, staff and clubs associated with the protests.
On 11 April, the Bahrain News Agency announced that Prince Nasser had formed a committee of inquiry to investigate sports personalities involved in protests under the chairmanship of Sheikh Salman. The article states that the committee's first meeting had taken place the day before.
A week later, on 20 April, the state-run Bahrain News Agency reported that the BFA issued suspensions, relegations and $20,000 fines to the six clubs. Two of the clubs were relegated; the other four were not solely because they were already in the bottom division. These clubs had previously written a joint-letter to Sheikh Salman in February 2011 asking that they be allowed to suspend activities due to the heightened security situation, for fear of the safety of their players and staff.
At least 150 athletes and sports figures were detained following the formation of the Committee. This included members of the Bahrain National Football Team, many of whom alleged that they were severely tortured. In 2011, an Independent Commission of Inquiry appointed by Bahrain's king found that torture was conducted systematically by officials against protesters.
To contact BIRD, email team@birdbh.org