09 March 2016 – Geneva, Switzerland – The 31st UN Human Rights Council has heard several oral interventions on behalf of the Bahrain Institute for Rights and Democracy (BIRD), Americans for Democracy and Human Rights in Bahrain (ADHRB), and the Bahrain Center for Human Rights (BCHR). Sayed Ahmed Alwadaei, Director of Advocacy at BIRD, gave an oral intervention on religious rights. Ali al-Jazeeri and Seddiqa al-Jazeeri gave oral interventions on the rights of the child and violence against children. Ebrahim al-Demistani, a nurse who was imprisoned in 2011 for treating protesters, gave an oral intervention on acts of torture in Bahrain's prisons.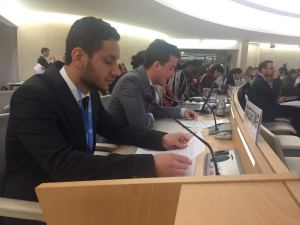 Sayed Ahmed Alwadaei delivered his oral on religious discrimination. He raised concerns on "attacks on Shia religious processions during the Ashora holiday, and attempts by the government to forcibly restrict public spaces to deny Shias the ability to gather in large numbers to pray, as happened recently in the village of Deraz."
He further said: "We therefore would like to ask if your mandate has received any credible indication that the Government of Bahrain intends to positively and substantively respond to the concerns raised in your communication, and what steps you would recommend to Bahrain toward dismantling this system of repression?"
Click here to read the full statement.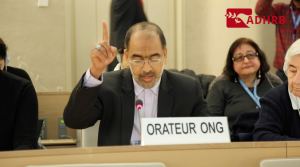 Ali Ahmed al-Jazeeri delivered his oral intervention during the Item 3 Clustered Debate on Violence Against Children, and the Rights of the Child. Mr. al-Jazeeri, speaking on 07 March, addressed the abuses that children face during detention, as well as the use of excessive force against children.
He said 'I would like to bring to the attention of the respected members of the committee many of the abuses occurring against children in Bahrain, such as arbitrary arrest, enforced disappearance, torture in prisons and the prevention of further education, keeping juveniles in adult prisoners, that is if they survived extrajudicial killings and excessive use of force.'
Click here to read his full statement.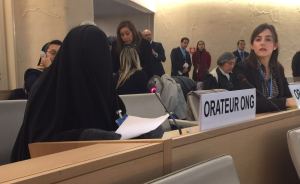 Seddiqa al-Jazeeri, speaking on 08 March at the same Item 3 Clustered Debate, spoke about the Government of Bahrain's continuing use of excessive force against demonstrators and children.
She said 'As the mother of the martyr Hussein Ali Jaziri, who I gave birth to five years after marriage. On 14 February 2013, Hussein went out with  his peers to participate in the peaceful protests calling for to uphold the principles of justice and dignity and human rights. Police officers shot him three times from close range. The last bullet hit him in the stomach and my son was left to bleed on the ground.'
Click here to read her full statement.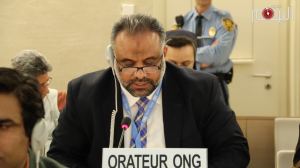 Ibrahim al-Demistani delivered his oral intervention during the Item 3 Interactive Dialogue with the Special Rapporteur on Torture on 08 March, in which he addressed the continuing torture and ill-treatment of prisoners in Jau Prison, including the prisoners' lack of much needed medical care.
He said 'We continue to receive an uninterrupted stream of new reports of torture and ill-treatment, particularly against political prisoners and prisoners of conscience who are facing harsh and vague conditions that prevent them from meeting with their lawyers or have their lawyers  attend their interrogation.'
Click here to read his full statement.