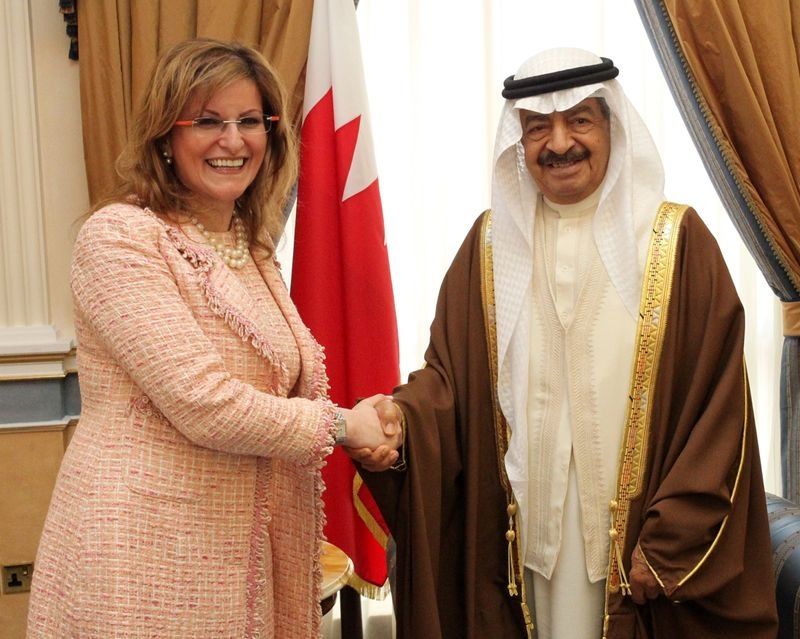 President of BPW International Freda Miriklis (left) with Bahrain Prime Minister Khalifa Bin Salman Al Khalifa (right)
The Bahrain Institute for Rights and Democracy (BIRD) has expressed shock and disappointment at BPW International regarding their decision to award the Bahrain Prime Minister with the Presidents Gold Award.
The award, set to be presented to Bahrains PM in BPW International's 2014 Congress in South Korea, recognises a male leader who has been instrumental in the empowerment of women within his sphere of influence. It has come at a time when women in Bahrain are being killed, tortured, degraded, ill-treated sexually abused, arbitrarily imprisoned and insulted.
BIRD has sent a letter to the BPW International President, Freda Miriklis, alongside a letter to the Patron of the Congress President of the Republic of Korea Geun-hye Park and letters to BPW International staff and partners including UN Women, the International Trade Centre, the International Organisation of Employers, the Commonwealth Business Council, WEConnect, the British Association for Women Entrepreneurs, the Global Summit of Women and UN Global Compact. Letters have also been sent to organisers of the 2014 BPW International Congress, speakers at the event and staff at the event venue.
Text of the letter to Freda Miriklis: