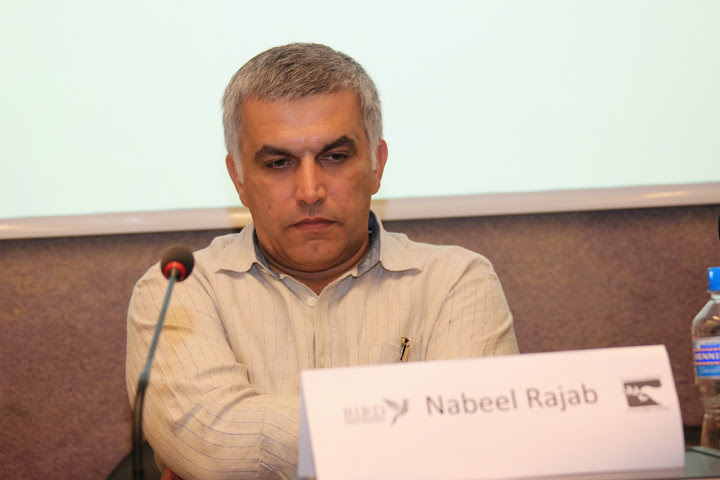 28 October 2014, London – 13 Members of the UK Parliament encompassing both government and opposition parties have signed an open letter to the King of Bahrain, Shaikh Hamad bin 'Issa Al Khalifa, urging the immediate release of human rights defender Nabeel Rajab ahead of his trial today. The signatories include both the Chair and Vice Chair of the All-Party Parliamentary Group on Democracy in Bahrain, David Amess and Andy Slaughter respectively, and member of the Parliament Joint Committee on Human Rights, Baroness Lister.
Mr. Rajab is facing trial on charges of "denigrating government institutions" for a tweet in which he criticized the inhibition of ISIS ideology within government. His comments came in response to the increase in defections of Bahrain government personnel to known terrorist group ISIS.
He now faces 3 years imprisonment under legislation recently ratified in Bahrain that has severely limited freedom of speech. This includes a crime of "insulting the King" that carries a maximum sentence of 7 years in prison alongside a fine of 10000BD.
Full Letter
HM Shaikh Hamad bin 'Issa Al Khalifa
Office of His Majesty the King
P.O. Box 555
Rifa'a Palace, al-Manama
Bahrain
Your Majesty,
We write to you regarding the recent arrest and detention of Mr. Nabeel Rajab over charges relating to his freedom of expression.
Mr. Rajab is a prominent human rights defender. He is the Under Secretary General of the International Federation for Human Rights, the President of the Bahrain Center for Human Rights, the Co-Director of the Gulf Center for Human Rights and a member of the advisory board for Human Rights Watch. He was arrested and detained on his arrival to Bahrain following visits to European countries in which he spoke about the human rights situation in Bahrain. The justification for his arrest and continued detention was a tweet found to be "denigrating to government institutions".
Mr. Rajab is facing prosecution for his right to free expression. The United Nations has voiced serious concerns[1] over his detention calling it "disturbing" and warned that it "sends a chilling message". The United States have called for authorities in Bahrain to drop the charges[2] that he faces relating to his freedom of expression and for his immediate release. These were also followed by similar calls from Norway and France.
International human rights organisations have also condemned Mr. Rajab's detention. Over 100 civil society organisations have signed a letter[3] calling for his immediate release. Both Amnesty International[4] and Human Rights Watch[5] have questioned Bahrain's commitment to free speech and reform as a result of his detention.
Bahrain has accepted the recommendations of its second cycle Universal Periodic Review at the UN Human Rights Council. This included an undertaking to protect human rights defenders and allow them to "conduct their work without hindrance, intimidation or harassment"[6]. Bahrain also accepted the Swedish recommendation during the UPR that civil society organisations are allowed to "take an active part in the public debate on human rights"[7]. Freedom of expression is a right guaranteed by international human rights law including the Universal Declaration of Human Rights and the International Covenant on Civil and Political Rights that Bahrain has acceded to. Such freedoms should be protected by Bahrain in the interests of national growth, development, reform and reconciliation.
We call on your government to release Mr. Rajab immediately and drop the charges against him.
Thank you for your consideration.
Sincerely,
Adrian Sanders MP (Liberal Democrats)
Andy Slaughter MP (Labour Party)
David Amess MP (Conservative Party)
George Galloway MP (Respect Party)
Grahame Morris MP (Labour Party)
John Leech MP (Liberal Democrats)
Julian Huppert MP (Liberal Democrats)
Martin Horwood MP (Liberal Democrats)
Michael Meacher MP (Labour Party)
Roger Godsiff MP (Labour Party)
Ronnie Campbell MP (Labour Party)
The Baroness Lister of Burtersett CBE (Labour Party)
The Lord Avebury (Liberal Democrats)
[1]http://www.ohchr.org/EN/NewsEvents/Pages/DisplayNews.aspx?NewsID=15135&LangID=E
[2]http://www.state.gov/r/pa/prs/dpb/2014/10/233166.htm#BAHRAIN
[3] http://www.civicus.org/index.php/en/link-to-related-newsresources2/2129-bahrain-free-nabeel-rajab-immediately-and-unconditionally
[4] http://www.amnestyusa.org/news/press-releases/bahrain-must-release-activist-nabeel-rajab-detained-for-insulting-tweets
[5] http://www.hrw.org/news/2014/10/03/bahrain-rights-activist-detained
[6] UPR Recommendation 115.147 (Norway), United Nations Human Rights Council, 2012
[7] UPR Recommendation 115.44 (Sweden), United Nations Human Rights Council, 2012