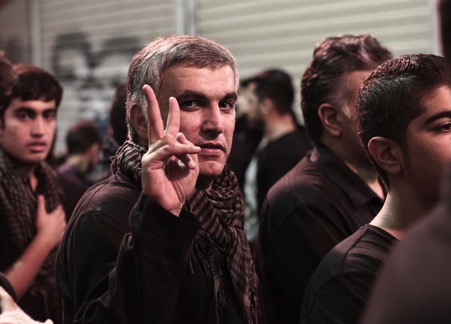 Updates
5 April 2015 – The appeal hearing for Nabeel Rajab that was pushed from 15 April to today was once again postponed to May 4. This is in relation to a 6 months sentence on charges of insulting government.
AP: Bahrain: Decision Postponed in Closely Watched Rights Case
At 4PM Bahrain Time, security forces raided Nabeel Rajab house and confiscated his electronics devices
04 April 2015 –  After the arrest of Nabeel Rajab on 2 April, Bahrain's Public Prosecutor has now remanded him in custody on two charges related to his freedom of expression. These are:
1) Inciting negative rhetoric against public institutions.
2) Working to undermine the role of the Bahrain Defence Force in promoting regional stability and security.
The first charge relates to Nabeel's documentation of mistreatment and torture at Bahrain's central prison: Jau.
The second charge related to his documentation of civilian deaths in Yemen during the coalition air strikes. Bahrain's Ministry of Interior has recently warned against issuing any statements against the war in Yemen and have threatened reprisals against all whom do not comply.
It is important to note that Nabeel Rajab has already been sentenced to 6 months imprisonment on charges of insulting government institutions. This was based on his tweets criticising Bahrain security forces who travelled abroad to fight with terrorist group ISIS. His appeal hearing which was set to take place on 15 April, was pushed to tomorrow(5 April) indicating that it may be used to uphold the sentence and keep him in custody.
If these charges are upheld, Nabeel could be facing over 10 years in prison.
Original Statement
02 April 2015 – London – Police today arrested Nabeel Rajab, President of the Bahrain Center for Human Rights (BCHR) at 4 PM this afternoon, 2 April 2015.
At approximately 3:50 PM (GMT+3), over 20 police vehicles surrounded his home in Bani Jamra. A warrant was handed to him, charging him with spreading false news of torture in Jaw Prison on Twitter.
Nabeel's final minutes were caught on video by his family.
The Ministry of Interior has since published a statement, claiming that Rajab has posted inciteful language to disrupt civil peace.
Rajab has been outspoken about torture and ill-treatment in the prison where, last month, protests broke out over the treatment of inmates. Security forces responded with excessive force, which Rajab's organisation the BCHR has thoroughly documented: [1], [2]
Last week, Rajab published an opinion piece on Huffington Post on the situation in Jaw prison: Into Bahrain's Jaws of Hell.
Prisoners have rights and prisons should be centres of rehabilitation. In Bahrain, inmates are punished for being inmates, and punished collectively. Torture is a crime against humanity, yet it is a constant feature in Jaw.
Human Rights Watch released a statement today about families who have lost contact with their imprisoned relatives since mid-March.
Rajab is currently sentenced to six months imprisonment for "insulting the Ministry of Interior and Ministry of Defence" in a September 2014 tweet. In November 2014 he was given a travel ban. Rajab's next appeal date is 15 April.
Husain Abdulla, Executive Director of Americans for Democracy and Human Rights in Bahrain, said: "Bahrain has carefully chosen this timing for Nabeel's arrest, one week after the UN Human Rights Council's session ended and on the eve of the Easter holiday."
Sayed Ahmed Alwadaei, Director of Advocacy at the Bahrain Institute for Rights and Democracy, said: "Prince Zaid, the UN High Commissioner for Human Rights, said last month that a government which arrests people for a tweet is weak. The Government of Bahrain has shown its weakness once again."
Said Yousif Almuhafdah, Vice President of the Bahrain Center for Human Rights, said: "We have witness testimonies and photographical evidence that human rights abuses are being carried out in Jaw. The violations are undeniable, yet rather than address the truth, they are calling Nabeel a liar and a criminal."
Click here for a timeline of judicial harassment against Nabeel Rajab since 2014.