---
Wednesday, 20 May 2015, Issue #
47
BIRD

Weekly Newsletter
In this Issue
•

Bahrain 13 

•

 Classified Cable on UK/Bahrain Relations

 • 

US Threaten to Relocate 5th Fleet 

 •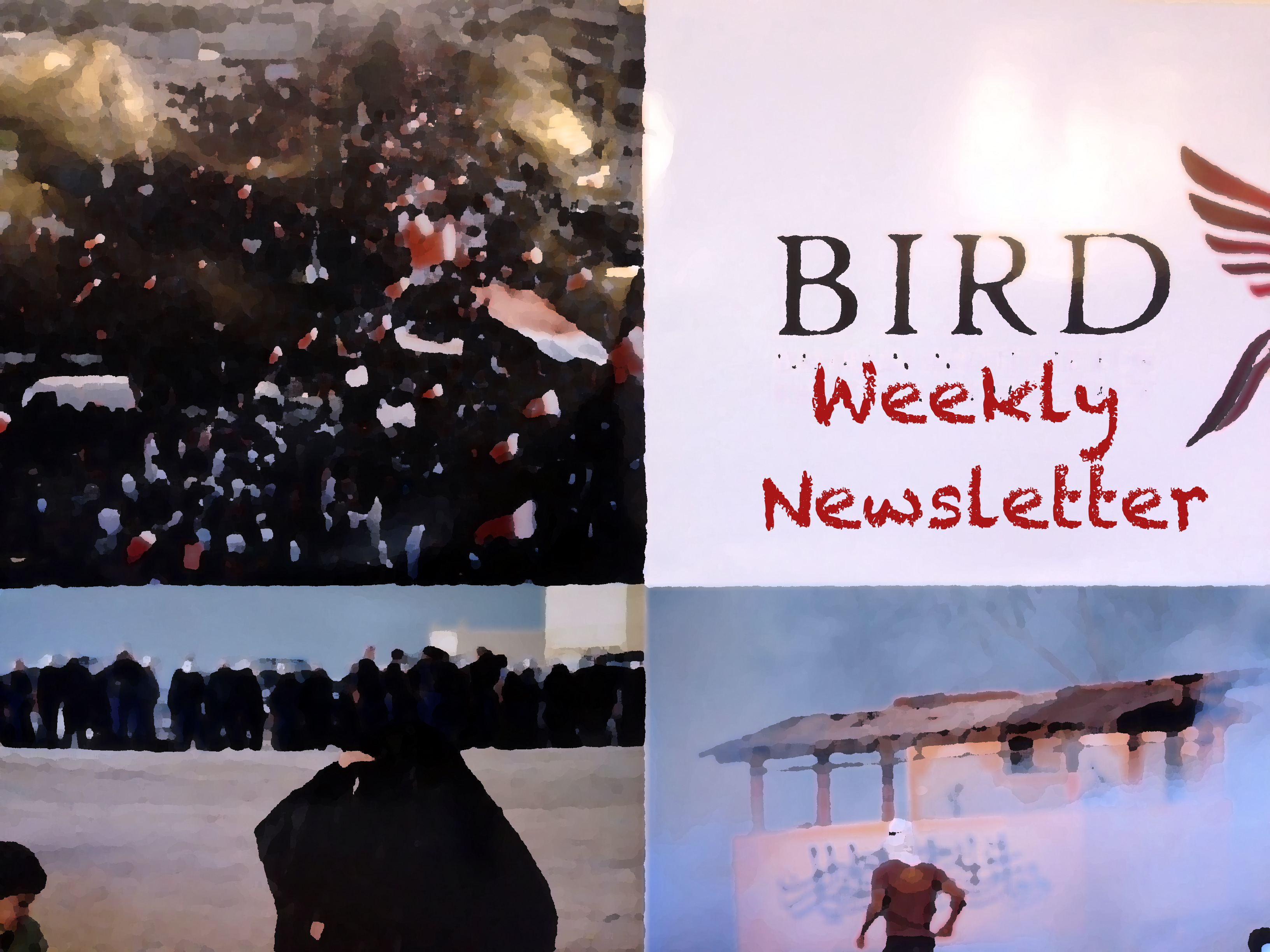 ---
May Champions of Justice: Bahrain 13
14 May 2015: The Bahrain 13 are a group of opposition leaders, rights activists, bloggers and clerics arrested in connection with their role in the February 2011 protests. This month they are featured in the Champions for Justice to shed light on the escalation of prisoner abuse in Bahrain. The Bahrain 13 in particular have been subjected to mistreatment since they were first arrested in 2011, which was well documented by the Bahrain Independent Commission of Inquiry. More recently, they have been separated from the rest of the prisoner population and made to wear uniforms designating them as criminal convicts, unlike other political prisoners.
Read the full profiles of the Bahrain 13 here
---
Take
Action
---
Nabeel Rajab was detained and sentenced to six months for a tweet. He has now been re-arrested and is facing 10 years for more tweets, this time criticising the killing of civilians in Yemen. Write to your MEP now and ask him or her to push for the immediate release of Nabeel and for the government of Bahrain to drop all the charges against him.
---
Updates

from the

Ground
---
37
arrested including
4 
children
2
released
3 
sentenced to more than
6
years in prison
188
trials postponed
Nabeel Rajab
6 month sentence upheld 
Wefaq leader
Ali Salman
back in court
Security forces continue the use of
force
and
excessive
use of tear gas against peaceful protesters.
---
#
Twitter

Nation
---
---
Weekly
Highlights
---
 Does the UK have a red-line when it comes to Bahrain's rights abuses?
Campaigners lose battle to release cable detailing historic UK relations with Bahrain
Bahrain bristles at threat to move 5th Fleet
Bahrain's King Heads to UK Horse Show, While Human Rights Activist Heads Back to Prison For a Tweet
---
News & Commentaries
---
Amnesty International: Bahrain: Nabeel Rajab jail sentence shows authorities will not tolerate peaceful critics
The Guardian: Gulf human rights abuses in focus as Camp David summit tackles Iran fears
The Hill: Lawmakers urge Obama to raise human rights issues with Gulf leaders
Front Line Defenders: Update: Bahrain – Six-month prison sentence against Nabeel Rajab upheld
Reuters: Bahrain upholds six-month sentence for prominent activist over tweet
Daily Mail: Bahrain king skips Obama summit to join Queen Elizabeth at UK horse show, making him the second Gulf leader to snub the U.S. President this week
Amnesty International: Bahrain: six-month jail sentence for Nabeel Rajab condemned
The Washington Post: Appeals court upholds verdict against Bahrain activist
Index on Censorship: Bahrain: Index condemns decision upholding sentence of human rights activist
IBTimes: Bahrain upholds prison sentence for Nabeel Rajab over 'IS defection' tweet
MSNBC: Obama must stand up to abusive Gulf allies
---