Wednesday, 13 May 2015, Issue #
46
BIRD

Weekly Newsletter
In this Issue
•

Letters to President Obama 

•

 Abdulhadi Al-Khawaja on Hunger Strike

 • 

Nabeel Rajab Detention Extended  

•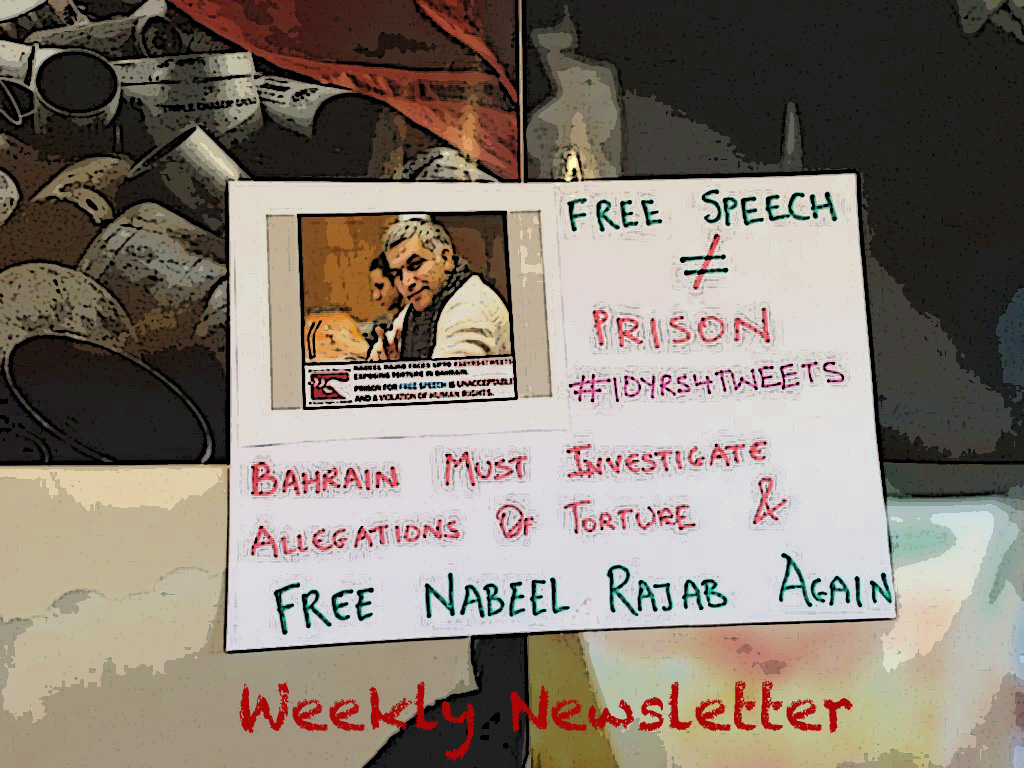 ---
Amnesty International USA: President Obama Must Raise Specific Human Rights Concerns with Gulf Leaders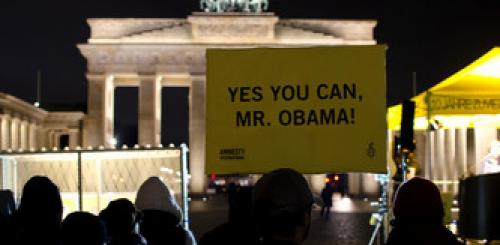 12 May 2015: Amnesty International has sent an open letter to US President Barack Obama requesting he raise specific human rights concerns with leaders from the member states of the Gulf Cooperation Council (GCC) this week, stating "This week's summit offers you a unique opportunity to advocate for an end to repression and human rights violations within each of these countries."  One of which is Bahrain, Amnesty International outlines the key human rights concerns within the country:
"Four years after Bahrain's 2011 uprising, authorities continue to curtail the rights to freedom of expression, association and assembly. Bahrain's government regularly imprisons critics and opponents solely for their peaceful exercise of these and other rights. Bahriani authorities have arrested hundreds of mostly young men and imprisoned them on charges of "illegal gathering", "rioting," or "arson" after trials that failed to comply with international fair trial standards."
Read the full letter here
---
Open Letter from Abdulhadi Al-Khawaja on his 21st day of hunger strike to the High Commissioner for Human Rights
10 May 2015: Imprisoned human rights defender Abdulhadi Al-Khawaja went on hunger strike on 20th April following the violent reprisals against inmates in Jau Prison.  In his letter to Prince Zeid Ra'ad Al-Hussein, the High Commissioner for Human Rights, Abdulhadi Al-Khawaja outlines his concerns over the human rights abuses taking place within Jau Prison. He states "Building 10 in Jau prison has become known as the torture building, and I have personally been hearing the screams of the victims. The type of torture I have heard in the last few months is the worst since 2011, and the violations that have occurred over the past period are indescribable."
Read the full letter here
---
Human Rights Watch: Letter to President Obama Regarding Human Rights Concerns in Gulf Cooperation Council States
5 May 2015: Executive Director of Human Rights Watch, Kenneth Roth sent an Open Letter to Obama urging him to press the Gulf States "to show greater respect for their citizen's rights to free expression, association, peaceful assembly and nationality."
"In Bahrain, the rights situation continues to deteriorate. The US has been one of the only countries to call for the immediate, unconditional release of prominent rights activist Nabeel Rajab, but he remains in detention. There can be little hope of a political resolution to the unrest in Bahrain while he and 13 other high-profile activists remain in prison for peacefully exercising their rights to freedom of expression and association."
Read the full letter here
---
Take
Action
---
Nabeel Rajab was detained and sentenced to six months for a tweet. He has now been re-arrested and is facing 10 years for more tweets, this time criticising the killing of civilians in Yemen. Write to your MEP now and ask him or her to push for the immediate release of Nabeel and for the government of Bahrain to drop all the charges against him.
---
Updates

from the

Ground
---
51 arrested including 2 children
20+ released
1 sentenced to a total of 3 years in prison
93 trials postponed
Policeman charged with the killing of protester Fadhel Abbas in 2014 acquitted
 Nabeel Rajab postponed to 14 May and detention extended to 15 days
 Ghada Jamsheer sentenced to 3 years imprisonment
Case against Al Wefaq postponed to 1 June 2015
---
#
Twitter

Nation
---
---
Weekly
Highlights
---

   Four Years of UK Rights Assistance to Bahrain for What Result? Only More Torture
Former Inmates at Bahrain's Jaw Prison Describe Being Tortured and Teargassed
'Their Freedom Is Their Right': A Campaign for Prisoners of Conscience in the Arab World
---
News & Commentaries
---
Human Rights Watch: GCC/US: Obama Should Press Gulf Rulers for Reform
Global Voices: An Open Letter to Barack Obama From a Bahraini Human Rights Defender
Index on Censorship: Bahrain: End imprisonment of democracy campaigner Nabeel Rajab
Cult Noise: Eye on Prisoners of Conscience: Bahrain
Gulf Center for Human Rights: Bahrain: Human rights defenders at risk in jail, others facing long prison sentences
Global Voices: Human Rights Defender's Hunger Strike Protests Torture in Infamous Bahraini Prison
Human Rights First: This Week's DC Meeting of Gulf Leaders: What to Watch
---