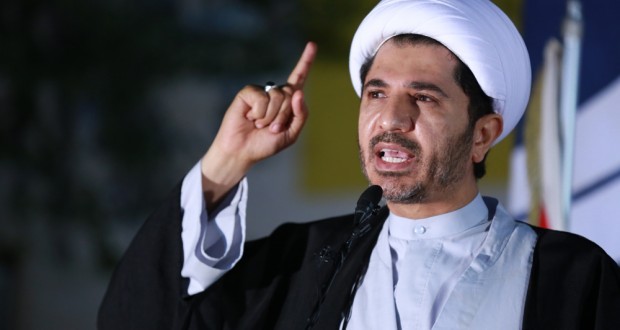 5 November 2015 – Geneva, Switzerland – The United Nations Working Group on Arbitrary Detention (WGAD) has officially declared Sheikh Ali Salman, the prominent leader of Bahrain's opposition party al-Wefaq, to be arbitrarily detained by the Bahraini government. The decision, which cites both free expression and due process concerns, requests that the Bahraini government release Sheikh Salman immediately, and provide him with an enforceable right to compensation against the government. Americans for Democracy & Human Rights in Bahrain (ADHRB) and the Bahrain Institute for Rights and Democracy (BIRD) applaud the decision by the Working Group, and demand that the Government of Bahrain respect the UN decision and immediately release Sheikh Salman.
The Bahraini government arrested Sheikh Salman in December 2014, charging him with publicly inciting hatred, disturbing public peace, inciting civil disobedience, insulting public institutions, and promoting a change of the ruling government, among other charges. On 16 June 2015, the Fourth High Criminal Court in Manama convicted him on the first three charges, sentencing him to four years in prison. Sheikh Salman appealed the decision; his next hearing is scheduled for Thursday, 12 November.
In finding the Bahraini government's detention of Sheikh Salman to be arbitrary, the Working Group cited its concern that Sheikh Salman had been detained in relation to exercising his guaranteed international human right of free expression. The Working Group took particular note that Sheikh Salman's arrest came two days after his re-election as the Secretary General of al-Wefaq, shortly after he made statements calling for the establishment of a democratic system of governance and for greater governmental accountability. The Working Group also noted a number of due process violations occurring during his trial, finding that the court often did not allow his attorneys to examine or adequately rebut evidence, and that the government did not accord Sheikh Salman the presumption of innocence.
"The Working Group's decision on behalf of Sheikh Ali Salman provides the international community with ultimate proof that his detention is arbitrary," said Husain Abdulla, the Executive Director of ADHRB. "The Government of Bahrain must honor the decision and release Sheikh Ali Salman immediately."
This is not the first time that the Working Group has found the Bahraini government to be guilty of arbitrary detention. In the last two years, the Working Group has formally decided that at least 15 Bahrainis have been arbitrarily detained by Bahraini government forces. This number stands in addition to other UN bodies and rapporteurs making well over 100 independent allegations of human rights violations since 2011, including over 39 minors, leading the Working Group to comment on potential "crimes against humanity" committed by the Bahraini government.
"The Government of Bahrain subjects hundreds of people to arbitrary detention every year," said Sayed Ahmed Alwadaei, the Director of Advocacy at BIRD. "This latest decision shows that the international community pays attention, and that the Al Khalifa government will one day answer for its crimes."