Ebtisam Al-Sayegh is hunger striking against her ill-treatment in Isa Town Women's Prison, where she is isolated in filthy and poor conditions
Her isolation in prison appears to constitute "prolonged solitary confinement" under the Mandela Rules
Her arbitrary detention continues into its sixth week
A credible prison source told BIRD she fears contracting tuberculosis
The National Security Agency is responsible for her arrest, interrogations and prosecution
The NSA tortured and sexually abused Ebtisam in May 2017
The NSA is run by Sheikh Talal Al Khalifa, a Bahraini royal and Sandhurst graduate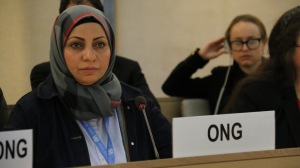 15 August 2017 – Ebtisam Al-Sayegh has resumed her hunger strike since Sunday 13 August. A credible prison source told BIRD that Ebtisam fears contracting tuberculosis and is hunger striking against her ill-treatment in Isa Town Detention Centre. The prison conditions appear to have deteriorated because the authorities are holding Ebtisam in isolation in a cell normally reserved for very ill inmates.
The human rights defender was arrested in July by the National Security Agency and subjected to a month of daily interrogations, some lasting over 12 hours a day. She has since been charged under Bahrain's anti-terrorism law. The Bahrain Institute for Rights and Democracy (BIRD) condemns the continued reprisals against Ebtisam's human rights work.
Ebtisam, detained since her arbitrary arrest on 3 July 2017, is being kept in an isolation room normally reserved for ill detainees in Isa Town Women's Prison. The prison authorities bar her from mixing with other Bahraini political prisoners, who are held on a separate floor. She is only allowed out of her cell for meals and one hour allotted in the courtyard.
Ebtisam's hunger strike began on 13 August. She is requesting to be treated like a normal inmate. Ebtisam was previously on hunger strike from her arrest until 1 August, ending it when she was finally allowed to see her family. Her health has deteriorated in detention, and she has been transferred to the Ministry of Interior Hospital at least twice, the last time on 3 August.
The treatment of Ebtisam, who has been held in isolation over six weeks in detention, appears to constitute prolonged solitary confinement. Rule 44 of the UN Standard Minimum Rules for the Treatment of Prisoners (Mandela Rules) defines solitary confinement as "the confinement of prisoners for 22 hours or more a day without meaningful human contact. Prolonged solitary confinement shall refer to solitary confinement for a time period in excess of 15 consecutive days."
The prison's insistence to hold Ebtisam in isolation, in a room intended for the sick, also appears to be impacting the health and safety of the rest of the prison. A credible source states two non-Bahraini inmates have contracted pulmonary tuberculosis, and the bathroom Ebtisam shares with other inmates is contaminated with their blood from vomit. There do not appear to be adequate safeguards of detainee health, and there is a risk of the spread of infectious diseases. The prison conditions are reportedly filthy.
Reprisals Against Hajar Mansoor Hassan
Another political prisoner, Hajar Mansoor Hassan, has been singled out for reprisals for complaining to the Ombudsman. Hajar Mansoor is the mother-in-law of Sayed Ahmed Alwadaei, BIRD's Director of Advocacy. Hajar, her son and her nephew were arrested in March 2017 in what Human Rights Watch described as a "cowardly attempt to break the resolve of an activist by attacking his family." She is currently in pre-trial detention, and faces trial in September on criminal charges.
Bahrain's Ministry of Interior Ombudsman – a body which UN experts and the Committee Against Torture have criticised as lacking independence, professionalism and thoroughness – visited Isa Town Women's Prison on 10 August to receive complaints. Hajar Mansoor submitted a complaint to the effect that she has been prevented from visiting her son in detention for several months, despite previously being allowed to do so.
After the Ombudsman left the prison, prison officer Lieutenant Maryam Bahar told Hajar Mansoor that because she had complained against them, she would face punishment.
Further Information: Ebtisam Al-Sayegh and the NSA
According to Ebtisam's lawyer, the National Security Agency is responsible for Ebtisam Al-Sayegh's 3 July arrest and subsequent interrogation and prosecution. A January 2017 decree granted the NSA law enforcement powers in terrorism cases; Ebtisam's is the first known case where the NSA has been solely responsible for criminal investigation.
In May 2017, the NSA summoned Ebtisam to their offices at Muharraq Security Complex. There she was detained for seven hours, tortured and sexually abused Al-Sayegh. In an interview with BIRD, Al-Sayegh told BIRD: "The interrogator said 'We are not the Criminal Investigation Directorate, we are the​ intellegence, and I am called the Torturer, my hobby is torture, my profession is to torture. I have the art of torture.' He feels he is a torturer, and if I scream from now till tomorrow in this building, no one will be able to hear me or save me, not rights groups, not the UN, nothing." Ebtisam was released, but threatened with reprisals if she continued her work – a threat which has been carried out.
Sheikh Talal bin Mohammad Al Khalifa was appointed Director of the NSA in August 2016. Sheikh Talal, a graduate of the Royal Military Academy Sandhurst, is the son of a former Minister of Interior and brother to Sheikh Fawaz, the ambassador in London.
The NSA has offices in Muharraq Police Station. Human rights groups have recorded a rise in allegations of torture and arbitrary detentions by the NSA since April 2016.
Systematic torture by the NSA in 2011 was recorded by the BICI, which led to the stripping of their powers. In April 2011, businessman Karim Al-Fakhrawi was tortured to death in NSA custody.