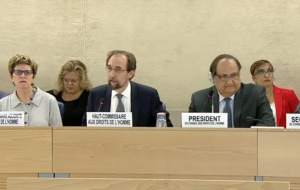 11 September 2017 – The UN High Commissioner for Human Rights today condemned the Government of Bahrain's crackdown on civil society and its use of torture, stating the people of Bahrain "deserve real respect for their human rights." The High Commissioner criticised the Bahraini government's "unreasonable" attempts to block UN missions to the country and said, "no public relations campaign can paper over the violations of being inflicted on the people of Bahrain." The Bahrain Institute for Rights and Democracy (BIRD) welcomes the High Commissioner's statement.
UN High Commissioner Condemns Bahrain Human Rights Abuses
The High Commissioner's statement today, available on video, comes at the opening of the 36th UN Human Rights Council (HRC) and explicitly dismisses Bahrain's claims to have responded to human rights concerns with genuine efforts. The Bahraini government typically points to its establishment of oversight bodies including a National Institute for Human Rights and Ministry of Interior Ombudsman.
The High Commissioner, Zeid Ra'ad Al Hussein, stated: "Since June 2016, the government of Bahrain has imposed severe restrictions on civil society and political activism through arrests, intimidation, travel bans and closure orders, with increasing reports of torture by the security authorities. Today, the democratic space in the country has essentially been shut down."
He continued: "I have repeatedly drawn the attention of the authorities to the gravity of the situation in the Kingdom, in conjunction with many human rights mechanisms and joint statements by Member States. I have also repeatedly offered the support of my Office to assist with practical improvements. These efforts have been met with point-blank denials, unfounded accusations and unreasonable last-minute conditions to technical missions."
The UN's human rights chief concluded: "But no public relations campaign can paper over the violations being inflicted on the people of Bahrain. They deserve real respect for their human rights, and I continue to offer the assistance of my Office to any genuine effort to address the situation."
The UN Committee Against Torture in May 2017 identified serious issues in the use of torture and forced confessions to prosecute political opponents and expressed concern that Bahrain's oversight bodies "are not independent, their their mandates are unclear and overlapping and that they are not effective." Last year, three UN experts raised "serious doubts" regarding the Ombudsman's "independence, professionalism and thoroughness", citing their failures to properly investigate the torture allegations of Mohammad Ramadan, who is one of two Bahraini men facing imminent execution.
Sayed Ahmed Alwadaei, Director of Advocacy, BIRD: "As condemnation mounts, the Government of Bahrain cannot hide its assault on human rights and basic dignities. Instead of wasting money on PR, Bahrain can only reform if it genuinely ends its human rights abuses."
He continued: "The international community must follow the High Commissioner's strong words with their own actions at the UN this month and hold Bahrain accountable for its crackdown on civil society and increased use of torture."
In August, Human Rights Watch, BIRD and other international NGOs called on 56 governments to increase pressure on Bahrain at the HRC, stating: "Bahrain demonstrably meets the criteria that should compel states and the Council to act to address this situation."
Nabeel Rajab Trial Today for Tweeting About Yemen and Torture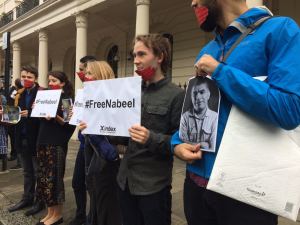 Also today, leading human rights campaigner Nabeel Rajab attended the Higher Criminal Court in his trial for tweeting about the war in Yemen and torture in Bahrain. The trial was postponed to 27 September. A new judge held court today and was unfamiliar with the case; this was likely the reason for the postponement. Rajab faces up to 15 years in prison for "insulting a statutory body", "spreading rumours in war time" and "insulting a neighbouring country." Rajab, president of the Bahrain Center for Human Rights, was sentenced in July to two years in prison for speaking to journalists.
London: Solidarity Protest For Nabeel Rajab
Protesters attended a vigil in support of Rajab today outside the Bahraini embassy in London today, sponsored by Amnesty International, Index on Censorship, English PEN, Reporters Without Borders and BIRD. The protesters were met with a significant police presence. Index on Censorship tweeted: "Diplomatic police tell us that there is a special order against peaceful vigil outside Bahrain embassy."