14 October 2021 – Protesters gathered outside Bahrain's embassy in London this afternoon in solidarity with Bahraini academic and political prisoner Dr Abduljalil AlSingace, who will reach his 100th day on hunger strike tomorrow, with speakers including Lord Scriven, Amnesty International and English PEN calling on Bahrain to end their ill-treatment of AlSingace and return his academic research which was confiscated by prison guards in April, the Bahrain Institute for Rights and Democracy (BIRD) stated today.
In an impassioned speech, Lord Scriven urged the UK government to "step up & use all their available leverage to urge Bahrain to meet Dr AlSingace's demands" and called out Bahrain's ambassador for refusing to meet with him to discuss the case. He closed his remarks by stating that Dr AlSingace has "been in prison for ten years too long" and urged Bahrain's rulers "to listen to the international community and order Dr AlSingace's immediate and unconditional release."
A security guard tries to remove protesters from the Bahrain embassy in London, sparking a fiery response from Lib Dem peer @Paulscriven who demands a meeting with the ambassador to discuss the human rights crisis in the Gulf dictatorship pic.twitter.com/uOxSEjsrNu

— Phil Miller (@pmillerinfo) October 14, 2021
Lord Scriven was followed by Dan Gorman, Director of English PEN, who shared messages of solidarity sent by supporters around the world through English PEN's PENWrites campaign. One message by a fellow writer in the UK urged Dr AlSingace to continue his fight for democracy in Bahrain, stating "As long as you have light, you have hope."
A message from Dr AlSingace to his supporters was also read out by BIRD Director Sayed Ahmed Alwadaei, in which he stated: "I learned from those who stand against injustice that when you fall, the most important thing you can do is stand again and continue. Falling repeatedly does not mean failure, as long as you stand again because every hurdle takes you closer to your noble target."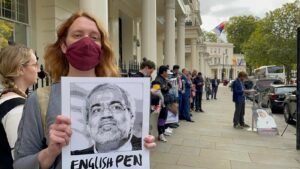 Sima Watling from Amnesty International's Bahrain team also shared a few words on Dr AlSingace's case, noting that Dr AlSingace is recognised as a prisoner of conscience who is imprisoned solely for his peaceful activism during Bahrain's 2011 pro-democracy uprising. She was followed by Dr Saeed AlShehabi of the Bahrain Freedom Movement, who called for Dr AlSingace's release in a speech in both English and Arabic.
The final speaker, Josie Thum of BIRD, challenged the UK government's failure to comment on Dr AlSingace's case, noting that four Westminster leaders, the Conservative Father of the House Sir Peter Bottomley and over 50 other MPs had backed calls for his release. She also drew attention to the £53 million of taxpayer money sent by the UK government to dictatorships in the Arab Gulf, some of which went to institutions in Bahrain implicated in whitewashing torture allegations by children and death row inmates. She concluded by urging supporters to go to BIRD's website to encourage their MPs to demand action from the government.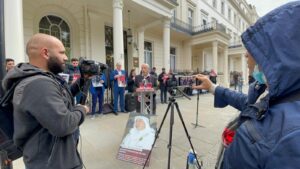 Dr AlSingace's hunger strike
Dr AlSingace launched his hunger strike on 8 July 2021 to protest "persistent mistreatment by prison authorities" and demand that a book he wrote in prison on Bahrain's culture and dialects, to which he dedicated four years of research, be returned, following its confiscation in April 2021. Since launching his strike, he has lost over 20kg and has been in hospital since 18 July. Family members recently reported that he has begun to lose muscle mass due to lack of food.
Calls for Dr AlSingace's demands to be met and for Bahrain to order his immediate and unconditional release have been backed by over 50 UK MPs, over 101 global academics and dozens of human rights groups, lawyers and trade unions. During this period, the Foreign Office is understood to have received at least four letters from MPs urging them to intervene to secure Dr AlSingace's release, but the Foreign Secretary has yet to make any public comment on his case.
In communications with BIRD, family members reported that Dr AlSingace is currently suffering from constant and severe muscle pain and has experienced seizures. Despite a physical disability limiting his movement, police officers are posted in his hospital room 24 hours a day, preventing any privacy. Rights groups including Human Rights Watch and BIRD have repeatedly accused Bahrain of medical negligence against high profile political prisoners in recent years, including Dr AlSingace.
Background on Dr AlSingace

Dr AlSingace is a 59-year-old academic and blogger currently imprisoned at Bahrain's notorious Jau Prison, after being handed a life sentence by a military court for his leading role in Bahrain's 2011 pro-democracy uprising during the Arab Spring. Since  being imprisoned, the international community has made consistent calls for his immediate and unconditional release, including Human Rights Watch, Amnesty International, the Bahrain Institute for Rights and Democracy and American, British and European legislators.
As well as being a prominent opposition figure, he is a former lecturer in the Mechanical Engineering department at the University of Bahrain and has a PhD in Impact Mechanics from the University of Manchester Institute of Science and Technology, now the University of Manchester. Almost 60 University of Manchester staff members signed the letter in solidarity.  In 2007, he was also a Draper Hills Fellow at Stanford University's Center on Democracy Development and the Rule of Law.
Dr AlSingace has several chronic illnesses, including post-polio syndrome and a musculoskeletal condition, requiring the use of crutches or a wheelchair, making his hunger strike particularly detrimental to his health.