Last week on 29 May 2023, Saudi Arabia announced the execution of two young Bahraini men, Jaafar Sultan, 31, and Sadiq Thamer, 33, on "terrorism" and protest-related charges for participating in anti-government protests in Bahrain.
Jaafar Sultan and Sadiq Thamer were arrested on May 8, 2015 and held incommunicado in solitary confinement for several months. Amnesty International reported that they were sentenced to death in a grossly unfair trial, as they had no access to legal representation throughout their pre-trial detention and interrogations and told the court that they were tortured and their confessions were extracted under duress. 
The death sentences are based on Tazir—the judge's personal opinion on which punishment should be implemented. These arbitrary executions were in clear breach of Saudi domestic laws and international laws on the implementation of the death penalty. 
In June 2022, UN experts urged Saudi Arabia not to carry out the executions, stating 
"The enforcement of the death penalty against Mr. Sultan and Mr. Thamer could constitute an arbitrary execution." They pointed out Saudi Arabia's failure to investigate the torture allegations, stating: "we note with concern that the Government does not indicate in its response whether an investigation has been carried out with regard to the allegations of torture and ill-treatment in the specific cases of Mr Jaafar Sultan and Mr Sadek Thamer." 
The Bahraini government has failed to acknowledge the executions. In 2016 Bahraini courts convicted the two men on identical charges and sentenced them to life imprisonment and stripped them of their citizenship. 
The families did not have any prior knowledge about the execution, about which they learned through the media. They have articulated their plea to the Saudi and Bahrain authorities to return the bodies of their beloved family members in order to bury them in accordance with their religious traditions and have called upon the Bahraini authorities to assist them in facilitating this. 
The parents of Sadiq and Jaafar, in a written statement shared with BIRD, stated: 
"Without any warning, we were shocked to discover the execution of our beloved sons through the media. We earnestly appeal to the Saudi authorities, urging them to return our sons' bodies, allowing us the basic right to lay them to rest according to our traditions and beliefs. We also seek assistance from our own government, the Bahraini authorities, in achieving this outcome."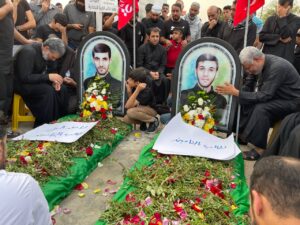 Chair of the All-Party Parliamentary Group on Democracy and Human Rights in the Gulf and Father of the House, Sir Peter Bottomley MP, has said: 
"When Jaafar and Sadiq's death sentences were finalised last year, I and 14 other parliamentarians wrote to the Saudi authorities, urging a halt to the executions. The cross-party call fell on deaf ears and both men were executed in a grave miscarriage of justice yesterday morning. 
Experts from the United Nations reported that the men received an unfair trial marred by torture allegations, with seemingly no investigation into their alleged abuse. 
If nothing else, the Saudi authorities must return their bodies to their families as soon as possible.
When previously raised in the House of Commons, the Government underscored its opposition to the use of the death penalty.
It is important that we stand firmer in support of this commitment."
Sayed Ahmed AlWadaei, Director, Bahrain Institute for Rights and Democracy (BIRD) commented:"The arbitrary execution of two Bahraini men subjected to an unfair trial, marred by allegations of torture and coerced confessions by Saudi authorities, was a clear violation of international law. The Bahraini regime is complicit in giving the green light to Saudi Arabia by failing to enact any measures to save the lives of their own citizens. 
Saudi Arabia's allies, namely the US and the UK, should publicly condemn these executions, and call on the Saudis to hand over the bodies to the families."
Commenting, Legal Director of ESOHR Taha al-Hajji: "Saudi Arabia's killing of Bahraini detainees who did not face most serious charges, which in international law are limited to murder, confirms its disregard for all international laws, opinions and commitments, especially that it had other options other than killing in this case, including issuing a ruling according to the Explosives Law or hand them over to their country.
This execution, in addition to 39 executions since the beginning 2023,  raises the fears on the lives of at least 61 detainees who are threatened with execution, including 9 minors. Silence over these crimes is complicity in it".