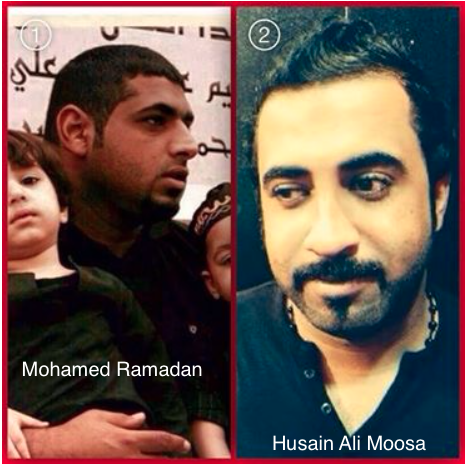 27 May 2015 – The Bahrain Institute for Rights and Democracy (BIRD) strongly condemn the death sentences upheld by a Bahrain Appeal Court today. Mohammad Ramadan and Husain Ali Moosa were sentenced to death in December 2014 for their supposed involvement in a bombing incident that resulted in the death of a policeman. They took the judgement to the Appeals Court, on the grounds that they were falsely accused, tortured and coerced to confess to the crime.
Five UN experts, including the Special Rapporteur on Torture Juan Mendez, expressed "serious concern … regarding, among others, the physical and mental integrity" of the convicted individuals. Mohammad Ramadan and Husain Moosa both state that they were tortured to confess to the crime. Mr Ramadan has previously stated that he received a phone call from an unknown person who admitted that the Bahrain government knew he was innocent, but that his participation in protest marches made him a traitor. Mr Moosa also states he was subjected to physical torture, including suspension from the ceiling, and that police threatened to fabricate cases against his relatives and rape his sisters unless he confessed.
We are talking about people who were tortured to confess to murdering policemen, then sentenced to death, then tortured by police in acts of revenge for a crime they didn't commit. This is a tragic farce, one which the European Union must criticise in the harshest terms.
Sayed Ahmed Alwadaei, Director of Advocacy, BIRD
The European Union is committed to the end of the death penalty. Stavros Lambrinidis, the EU's Special Representative for Human Rights, is currently in Bahrain on a human rights visit.
Bahrain courts have sentenced at least 8 individuals to death since 2011 on political charges, four of whom were sentenced to death in 2015 alone. Allegations of torture surround all these cases. Individuals sentenced to death are subjected to harsh prison standards. Abbas Al-Samea, sentenced to death in February 2015 in relation to the death of three policemen, was subjected to severe physical beatings to his face in March and April in prison. Reports state that he has swollen gums, teeth missing, a broken nose and suffers internal bleeding as a result of these beatings.
Ali Al-Taweel, who was sentenced to death in 2011, has been in solitary confinement in the four years since his sentence. Mr Al-Taweel has attempted to commit suicide twice and in January 2015 was transferred to a psychiatric hospital following a psychological breakdown caused by his mistreatment. He has received no sufficient psychological or medical help.
The last execution in Bahrain was in 2010, but the threat of execution remains ever-present for Mr Ramadan and Mr Moosa.