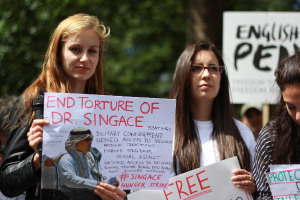 7 October 2015 – Today marks the 200th day of Bahraini prisoner of conscience Dr Abduljalil al-Singace's protest. Dr al-Singace has boycotted all solid food in response to the ill-treatment of prisoners  in Bahrain.
21 human rights organisations reiterate their call for his release in a joint statement published today. The NGOs "voice our solidarity with Dr al-Singace's continued protest andcall on the United Kingdom and all European Union member states, the United States and the United Nations to raise his case, and the cases of all prisoners of conscience, with Bahrain, both publicly and privately." They call for his immediate and unconditional release.
The latest statement follows an urgent appeal which marked the 160th day of Dr al-Singace's protest, and which coincided with a picket outside the UK Foreign and Commonwealth Office, London. The United States, European Parliament and UN High Commissioner for Human Rights have all raised the condition of prisoners of conscience and Dr al-Singace since the beginning of his protest.
Prison authorities appear to have finally begun to take notice of the international attention his case is attracting. Dr al-Singace recently received treatment for a nose injury he suffered during his torture in 2011.  He had waited over four years to receive such treatment.
However, Dr al-Singace's condition remains critical. He suffered damage to his ear as a result of torture, but has not received adequate medical attention for this injury. His family states that he is often dizzy, his hair is falling out, and that he is "on the verge of collapse."
Sayed Ahmed Alwadaei, Director of Advocacy, Bahrain Institute for Rights and Democracy: "Dr al-Singace's puts his life at risk for his belief in a torture-free and democratic Bahrain. To support democracy and reform in Bahrain, the United Kingdom and United States must call for Dr al-Singace's immediate release."
Cat Lucas, Writers at Risk Programme Manager, English PEN: "We're pleased and relieved that the prison authorities seem to be taking notice of the growing international support for Dr Al-Singace, having finally allowed him medical treatment and access to a pen in recent weeks. However, there is still a long way to go and the UK government has a crucial role to play. We urge them to join our call for justice for the many writers and activists detained in Bahrain."