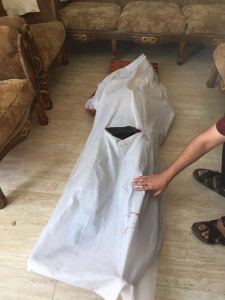 24 May 2017 – Five were killed yesterday as Bahraini police used tear gas and shotguns to repress a peaceful sit-in around the home of leading Shia cleric Sheikh Isa Qassim in Duraz. Bahraini authorities continue to surround the town following Sunday's trial of Sheikh Qassim on unsubstantiated charges, denying dozens of wounded access to hospitals and medical care. We, the undersigned, condemn in the strongest possible terms the government's lethal raid on the peaceful demonstration in Duraz and call for the withdrawal of the excessive police presence.
Security forces reportedly shot dead Mohamed Khadim Muhsin Zain Al-Deen, a respected environmental activist who served as Deputy President of a local chapter of Friends of the Environment, during today's raid. Video and photographic evidence seen by the undersigned show police conducting arrests and clearing the 11-month-long sit-in outside the home of Sheikh Isa Qassim, as well as other protesters suffering from shotgun wounds.
Sheikh Qassim, the most senior Shia cleric in Bahrain, was sentenced in absentia on Sunday, 21 May to a one-year suspended sentence for alleged money-laundering. The Government of Bahrain also arbitrarily stripped Sheikh Qassim of his citizenship in June 2016, rendering him stateless. During today's raid, authorities reportedly entered Sheikh Qassim's home, although it is as yet unclear if he was personally targeted.
The Ministry of Interior (MoI) announced the Duraz operation this morning and claimed that a number of "fugitives" had been arrested. The MoI appeared to deploy special commando units to raid the sit-in.
Since June 2016, after demonstrators organized a peaceful sit-in to protest the government's arbitrary denaturalization of Sheikh Qassim, the authorities have blockaded the village of Duraz. Police have blocked off nearly all entrances to the village and established checkpoints at the remaining two, excessively restricting the right to freedom of movement of Duraz's residents, business owners and visitors. Duraz has also been subject to internet shutdowns.
Moreover, following the revocation of Sheikh Qassim's citizenship, the Bahraini government launched a campaign targeting other Shia religious leaders. Since June, the authorities have judicially harassed more than 75 Shia clerics for participating in the sit-in or for the contents of their sermons, even preventing some from accessing mosques to lead prayers. In July, the government also dissolved Al-Wefaq, a predominantly Shia opposition society, and, in today's raid, reportedly arrested the group's former head of public relations from his home in Diraz.
Last year, the European Union warned that "revoking the citizenship of prominent figures such as Sheikh Isa Qassim risks increasing divisions and sectarian differences" in Al Khalifa-ruled Bahrain.
On Sunday, the same day that Sheikh Isa Qassim was sentenced, King Hamad Al Khalifa of Bahrain met with US President Donald Trump at the Riyadh Summit in Saudi Arabia. The meeting saw President Trump sign a US $110 billion arms deal with the Kingdom of Saudi Arabia and reassure the Saudi and Bahraini monarchs that "there won't be strain with [their relationships with] this administration." In March 2017, the Trump administration decided to lift all human rights conditions on a multibillion-dollar sale of F-16 fighter jets and other arms to Bahrain.
Sayed Alwadaei, the Director of Advocacy at the Bahrain Institute for Rights and Democracy (BIRD), said, "The tragic death of a peaceful protester in the crackdown in Duraz this morning follows Trump's meeting with Bahrain's authoritarian king last weekend in Riyadh. In this meeting Trump effectively gave Hamad a blank cheque to continue the repression of his people. The US administration has blood on its hands for providing arms unconditionally to the Bahraini regime during an intensified repressive campaign on civil society in Bahrain."
In a January raid on the Duraz sit-in, masked, plain-clothed officers shot 18-year-old Mustafa Hamdan in the back of the head, rendering him comatose. He died in March 2017. No branch of the security forces have claimed accountability.
"By violently raiding the home of the country's most prominent Shia cleric, the Bahraini government is purposefully inflaming religious tensions and demonstrating its resolve to crush any form of peaceful dissent," said Husain Abdulla, Executive Director of Americans for Democracy & Human Rights in Bahrain (ADHRB). "With the Trump administration's blessing, Bahraini authorities are brutally stamping out any semblance of opposition and – in effect – making free expression, assembly, and belief capital crimes. It is imperative that the international community vehemently condemn this extremely destabilizing course of action."
We, the undersigned, are gravely concerned by the Bahraini government's increasing use of excessive and deadly force to target peaceful protests and suppress dissent. We condemn the lethal raid on Duraz, as well as the judicial harassment of Sheikh Isa Qassim, and urge the Government of Bahrain to immediately end its violent attack on Bahraini civil society.
Signed,
Americans for Democracy & Human Rights in Bahrain (ADHRB)
Bahrain Institute for Rights and Democracy (BIRD)
European Centre for Democracy and Human Rights (ECDHR)