18 October – Yesterday, the Bahrain Institute for Rights and Democracy (BIRD) and the Arab Organisation for Human Rights in the UK (AOHR) co-hosted an event at Parliament to highlight the deteriorating state of human rights in Bahrain.
The event included a panel of experts who discussed the brutal crackdown on political opposition, human rights defenders and journalists, that Bahrain has faced since 2011. Hannah Philips  from AOHR moderated the event and opened the discussion. She first focused on the suppression of freedom of speech and association and the deliberate denial of medical care and religious freedoms in Bahrain's prisons. She went on to highlight Bahrain's prison rate – the highest per capita in the Arab World, before introducing the panelists.
Lucilla Berwick, Research and Advocacy Associate at BIRD, discussed the findings of BIRD's recent joint report with Americans for Democracy and Human Rights in Bahrain on the abuses female activists and human rights defenders have faced since 2017 in the country, a pattern never documented at length before.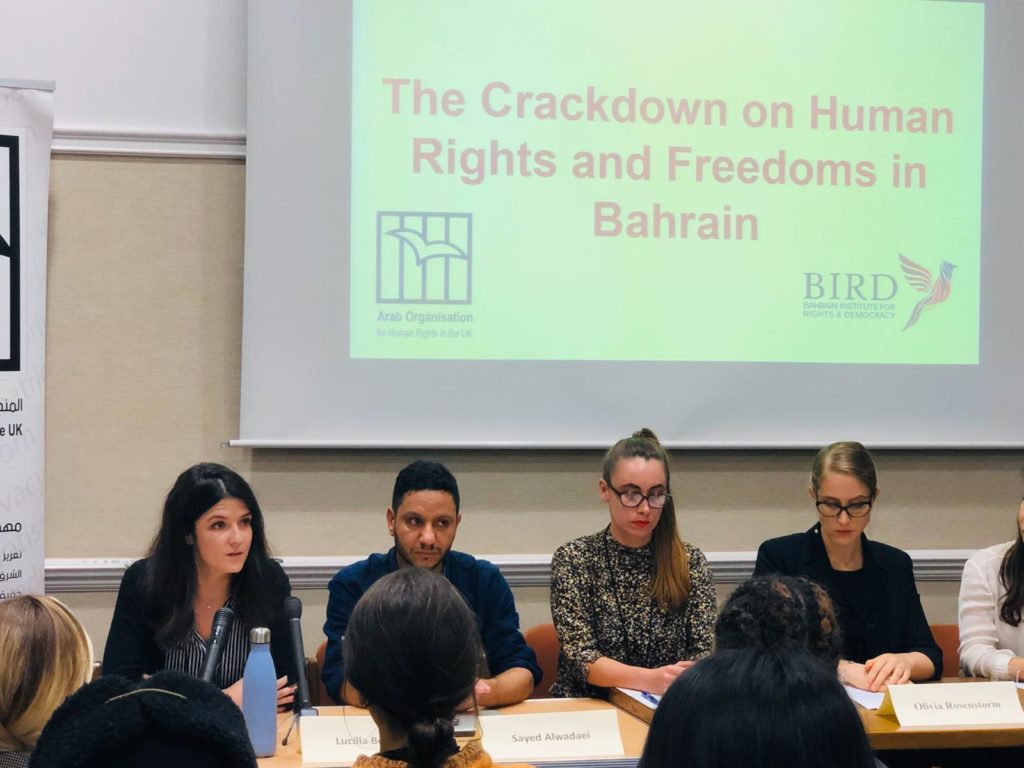 Her remarks focused on multiple violations and abuses experienced by the nine women featured in the report, from the moment of their arrest, through their interrogation, trial and detention. These include physical, psychological and seuxal torture, denial of legal representation and inhumane prison conditions. Lucilla went on to describe the detrimental impacts of UK foreign policy, including training to police and security forces, which has "in some circumstances contributed to human rights abuses in Bahrain." 
In particular, she focused on the £6.5 million of technical assistance spent by the Foreign Office since 2012 to train oversight institutions which have been internationally criticised for their lack of independence. While the Foreign Office boasts about the success of these bodies, many victims tell another story. Investigations have routinely found no fault in the actions of state officials, often justifying abuses entirely. Yet, Lucilla said, "these are the very organisations that the Foreign Office continues to tell torture victims to refer their complaints to."
Bahar Saba, Middle East and North Africa Caseworker at Reprieve, discussed the dramatic increase in executions in Bahrain, which resumed in 2017 after a seven-year moratorium.  "Bahraini courts continue to sentence individuals to death in proceedings that fall far short of international standards," she asserted.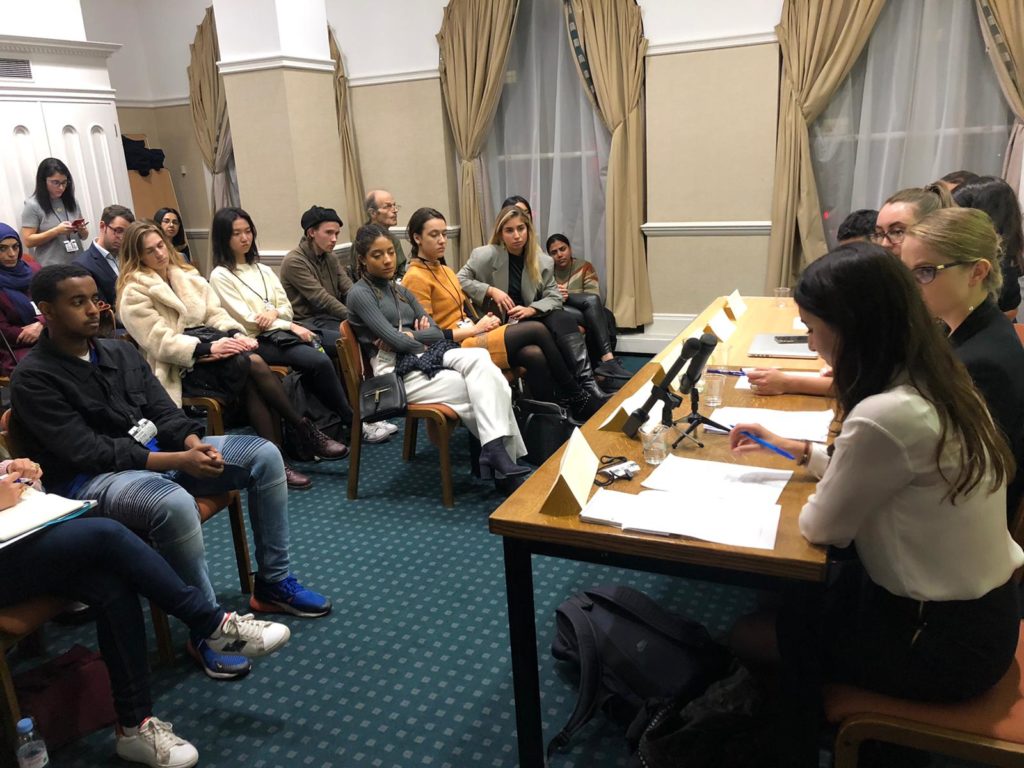 Bahar discussed the concerning cases of death row inmates Maher Al-Khabbaz, Mohammed Ramadan and Hussein Moosa, focusing on the torture they were subjected to to estract confessions. Not only does the death penalty itself conflict the International Covenant for Civil and Political Rights (ICCPR), of which Bahrain is a signatory, but those sentenced to death regularly report due process violations and torture. "Despite its international obligations, Bahrain's use of the death penalty continues to infringe on the right to life" she emphasised.
Bahar concluded by discussing how the number of individuals on death row has tripled despite the UK's technical assistance programme. She particularly criticised the Ministry of Interior Ombudsman and the Special Investigations Unit, two beneficiaries of the programme, who she asserted have continued to cover up cases of torture, allowing individuals to be sentenced to death on the basis of forced confessions. Bahar called for greater transparency and more robust investigations.
The third speaker, Bahraini activist Ali Mushaima, spoke about his experience in Bahrain's prisons and imprisoned father, 71-year-old opposition leader Hassan Mushaima, who continues to be denied medical care while serving an unlawful life sentence at Jau prison. "I myself, was in prison three times. The first time was when I was only 15 years old. I remember all the details… how they tortured me, the dates, and the cell I stayed in" Ali recounted.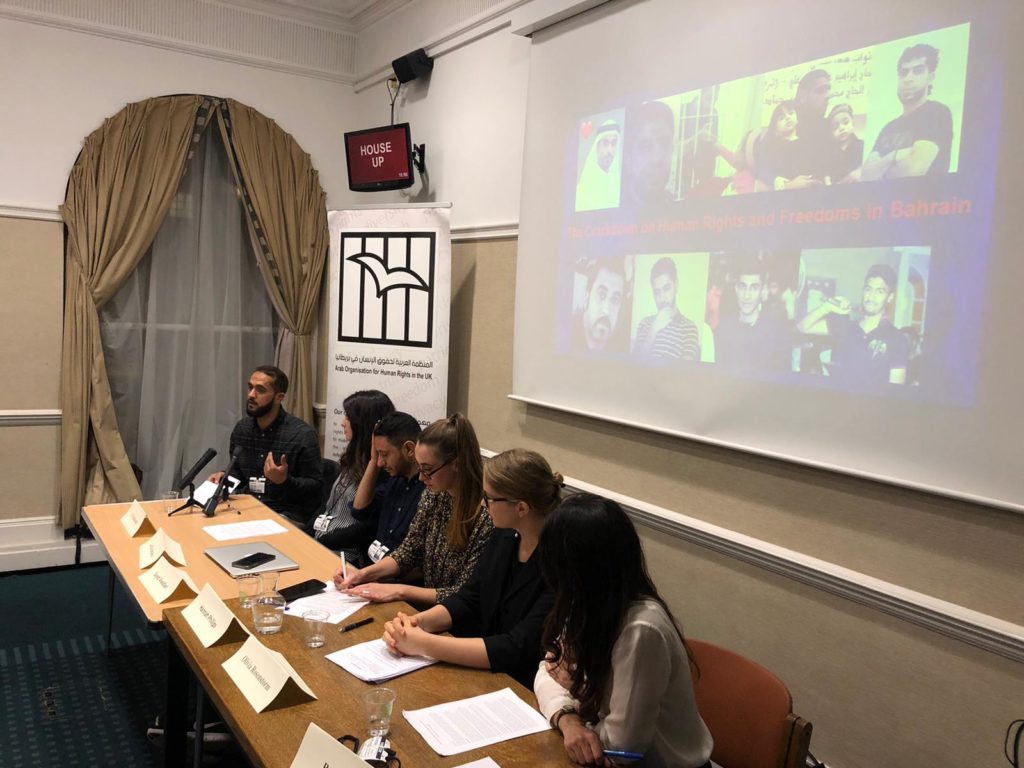 Hassan Mushaima is recovering from lymphoma and suffers from multiple health conditions including diabetes, gout and high blood pressure.  However, prison authorities have routinely failed to provide him with specialist care. "In order to get medical treatment, you have to agree to be humiliated" Ali said, referring to the shackles the administration imposes on political prisoners which violate the Mandela Rules on the treatment of prisoners. 
In August 2018, Ali spent 63 days protesting outside the Bahraini embassy in London to demand Bahrain provide him with medical care.  For 46 of those days he was on hunger strike. "You can imagine the severity of the situation if someone has to sleep on the street in London to demand medical attention for their father in Bahrain." Ali also drew attention to the wave of hunger strikes in Bahraini prisons since August, including dozens currently refusing food in Jau Prison.
Olivia Rosenstrom, a barrister at  Temple Garden Chambers, discussed the types of violations the Bahraini government is implicated in and the legal remedies that can be taken in order to stop them.  
She emphasised Bahrain's failure to fulfil its international obligations. The  detention and harassment of photographers, journalists and activists, and the general crackdown on freedom of expression violates several treaties, including the ICCPR.  She also condemend the continued use of coerced confessions in Bahraini courts, which violates the Convention Against Torture and Other Cruel, Inhuman or Degrading Treatment or Punishment (CAT), to which Bahrain is party.  Olivia also mentioned some of the consequences of citizenship revocation, including barriers to free movement and access to education, employment and medical care.
Olivia went on to assert the necessity of human rights conditions on trade and security agreements. Unfortunately, the UK and EU appear to be taking a "pragmatic and commercial" approach to their relationship with Bahrain, prioritising strategic aims over. Olivia concluded by providing some concrete solutions; 1) to push for a UN General Assembly inquiry into the human rights abuses in Bahrain; 2) to apply economic pressure and sanctions from the EU, UK and other countries and 3) refer human rights abusers to the International Criminal Court and impose sanctions to offenders travelling to the UK.
The final speaker, BIRD's Director of Advocacy Sayed Ahmed Alwadaei, opened his remarks by playing a tearful message from his mother-in-law Hajer Mansoor, who complained about the poor and cruel conditions in the Isa Town Prison, where she is currently imprisoned in reprisal for Sayed's work. The call reveals "the level of pain caused by the abuses taking place in prison" Sayed said.
Sayed went on to recount a phone call from Jau prison he received in July this year, which made him realise that two torture victims, Ali AlArab and Ahmed Almalali, would be executed within hours. "This is what I call the feeling of helplessness, and there's nothing worse than helplessness." Commenting on the failure of international condemnation to halt the executions, he emphasised the need for concrete action by states,  rather than mere statements of concern.
He concluded by discussing the case of Moosa Mohammad, a Bahraini activist who climbed onto the rooftop of Bahrain's London embassy to protest the executions. Moosa was brutally beaten by embassy staff members and police were forced to storm the building.  He complained that Bahrain has faced "zero consequences" and criticised the UK government's failure to respond. If Bahrain are emboldened to attack protesters in front of British police without consequence, imagine what they can do in Bahrain, when no one is watching, Sayed asked.  He concluded by stressing the importance of parliament holding the UK government to account. "We do have a say," he said, "and with everyone's support, hopefully we can get there."
The discussion was followed by a question and answer session, in which panelists reflected on the failures of governments and the international community to end abuses in Bahrain and hold the perpetrators to account.  Solidarity was shown with Bahrainis from an audience member from repressive Eritrea, who shared her country's experience with international human rights mechanisms and their limitations.