5 March 2020 – Hajer Mansoor, mother-in-law of London-based human rights defender Sayed Ahmed Alwadaei, was released from prison in Bahrain today after completing a three year sentence on fabricated charges, the Bahrain Institute for Rights and Democracy (BIRD) announced today.  
Hajer, 51, was convicted on 30 October 2017 alongside her son, Sayed Nizar Alwadaei, and nephew, Mahmood Marzooq Mansoor, on fabricated charges of planting a fake bomb.  While Mahmood is due to be released in a month's time, Sayed Nizar, who was just 18 when he was arrested, faces a total sentence of 11 years. The UN Working Group on Arbitrary Detention has deemed all three arbitrarily detained in "reprisal" for Sayed Ahmed's activism in the UK.  
No words can express this feeling.

My mother in law Hajer Mansoor is finally free after 3 years in jail for my activism.

Throughout her ordeal, Hajer has held her head high in the face of injustice. An inspiration to me & to many, many people in #Bahrain and beyond. #HajerFree pic.twitter.com/UINexrmEc5

— Sayed Ahmed AlWadaei (@SAlwadaei) March 5, 2020
The campaign for Hajer's release has been among the most prominent in Bahrain's recent political history.  In April 2019, 54 MPs, lawyers and prominent human rights groups published an open letter in The Guardian calling for Hajer's release, while over 80 MPs have signed an Early Day Motion criticising her imprisonment.  
Last November, 52 members of the European Parliament condemned Hajer's "cruel and inhumane treatment" in prison, while the U.S. State Department previously raised "major concern" that Hajer and her family members' "confessions were obtained under duress".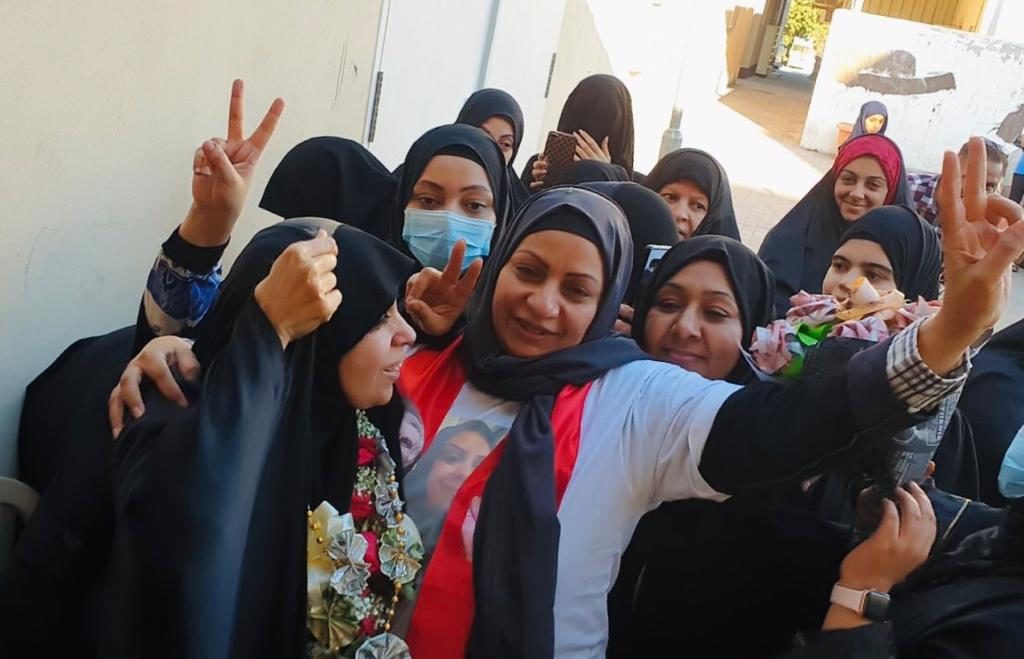 During her imprisonment at Isa Town Female Detention Centre, Hajer consistently provoked the ire of prison authorities by exposing human rights abuses, including religious discrimination and medical negligence.  She has been persistently targeted for speaking out from prison and last November eight UN experts expressed "grave concern" that her conditions of detention "may amount to torture".
Following Hajer's release, only one female political prisoner remains incarcerated in Bahrain.  Zakeya Al Barboori, 31, is serving a five year sentence after being convicted in 2018 in an unfair trial under Bahrain's overly broad counter-terrorism law.  She was also stripped of her citizenship, although this was reinstated last year.
Sayed Ahmed Alwadaei, Director of Advocacy at BIRD, commented: "Hajer's release is undoubtedly a joyous moment for my family.  Throughout her imprisonment, Hajer has remained unbowed and I have been personally inspired by her bravery in the face of persistent discrimination by a spiteful prison administration.  However, while we are all relieved that Hajer is finally coming home, her son and nephew continue to be arbitrarily detained in reprisal for my activism in the UK. It is time for the government to end this petty vendetta and release my family members."
Amnesty International commented: "Hajer Mansoor was imprisoned for three years on patently absurd charges based solely on her family relationship with Sayed Ahmed al-Wadaei, a human rights activist who now lives in the United Kingdom. As such, Amnesty considers her a prisoner of conscience for as long as she remains locked in a Bahraini prison cell. She should never have spent a single day in detention, as her trial was from start to finish an act of reprisal intended to harm a critic of the Bahraini government who had escaped beyond their reach. While we welcome the news of her impending release, Hajer's jailing is unfortunately only one of a number of similar cases in which Bahraini families have been targeted for reprisals because of who they are related to. Indeed, two more of Sayed Ahmed's own family members still remain behind bars."
Aya Majzoub, Bahrain Researcher at Human Rights Watch, commented: "The release of Hajer Mansoor is a bittersweet moment for her and her family, who are celebrating her freedom while lamenting the needless suffering that her imprisonment caused and remembering the two other family members who remain unjustly imprisoned. The Bahraini authorities robbed her of the three years that she spent in prison and subjected her to degrading treatment solely because she was the relative of Sayed Ahmed Alwadaei, a prominent and outspoken activist. Unfortunately, this case is neither isolated nor uncommon in Bahrain, where the government subjects dissidents and human rights defenders to harassment, intimidation, and trumped up criminal charges."
Husain Abdulla, Executive Director at Americans for Democracy & Human Rights, commented: "The judicial harassment of Sayed's family sadly reflects wider patterns of repression against activists and their relatives in Bahrain, which have only intensified since the election of President Trump.  Until Bahrain's allies withdraw the carte blanche they have given the Bahraini government to crush all opposition without consequence, the persecution of dissenting voices is likely to continue."
Background: Arrest, Torture, Trial and Detention
Hajer was detained on 5 March 2017, just days after Sayed Ahmed participated in the UN Human Rights Council in Geneva.  During interrogation, Hajer was questioned repeatedly about her son-in-law's activities, subject to threats against family members and forced to stand for ten hours until she collapsed and had to be rushed to hospital.  
As a result of her ill treatment, Hajer confessed to charges of planting a "fake bomb", a confession which she later retracted.  Nonetheless, Hajer was convicted on 30 October 2017 alongside her son, Sayed Nizar Alwadaei, and nephew, Mahmood Marzooq Mansoor, based solely on "confidential sources"  and her coerced confession, in the absence of any physical or forensic evidence. In an embarrassing diplomatic blunder, the Bahrain Embassy in London informed then-Foreign Secretary Boris Johnson of Hajer's conviction by an "independent Bahraini court" a week before their actual conviction.
After arriving at Isa Town Female Detention Centre, Hajer was persistently targeted for her political status and punished for speaking out about her mistreatment.  In September 2018, days after her case was raised in the Parliament, Hajer was assaulted by the head of the prison, Lieutenant Colonel Mariam Albardoli. 
After the assault, Hajer was subject to a range of punitive measures including solitary confinement, religious discrimination, medical neglect and obstruction of family visits.  Between September 2018 and July 2019, Hajer was granted a solitary family visit after substantial international pressure.
Hajer's nephew, Mahmood, is also due to be released imminently.  However, Sayed Nizar, who was just 18 when he was arrested and severely tortured, had additional charges brought against him in prison, bringing his total sentence up to 11 years in prison.  All three were deemed to be arbitrarily detained by UN WGAD.