UPDATES
9 September 2014 – Sixteenth Day of Hunger Strike
Doctor was very afraid about Abdulhadi's condition, which deteriorated during the night. He tried to insist on taking Abdulhadi to the hospital but he refused.
Abdulhadi was given 3 bags of IV in his cell.
His condition is more stable now.
5 September 2014 – Twelfth Day of Hunger Strike
Weight – 56kg
Ketone – +3
BP – 85/50
4 September 2014 – Eleventh Day of Hunger Strike
We have been informed that Abdulhadi is visited by 1 nurse and 1 doctor every 2 hours. When his health becomes a serious and immediate concern, he is attended by 1 doctor and 4 nurses.
Abdulhadi is no longer on an IV, which authorities had previously said would be a 'one-time option'. Instead he is now taking glucose syrup, which makes his blood-sugar level shoot up and later causes it to plummet.
Abdulhadi received a visit from a Danish consular. We are still awaiting information on what was discussed during this visit.
According to Abdulhadi's brother, officers will no longer be moving Abdulhadi to Nabeel's old cell.
3 September 2014 – Tenth Day of Hunger Strike
Abdulhadi has been told that receiving the IV in his cell was a one time deal
Authorities now want to transfer him to Nabeel Rajab's old cell – an old office infested with insects that is hardly sanitary for his health. NGOs are concerned with the purpose of this isolation and fear this may be a retaliation to prevent information about Abdulhadi's health getting out.
At 9am this morning Abdulhadi's lawyer was denied entry and prevented from seeing him. The lawyer was harassed and provoked by prison guards.
1 September 2014 – Eighth Day of Hunger Strike
Abdulhadi suffers from a Urinary Tract Infection due to dehydration
He continues to have pain in his lower back and sides
Sugar level between 2 and 3.1
Blood pressure at 95/55
Abdulhadi's daughter Maryam Al-Khawaja was arrested at Bahrain airport with the sole purpose of her visit, to see her father.
29 August 2014 – Fifth Day of Hunger Strike
Abdulhadi refuses IV treatment after falling unconscious yesterday during prayer
He has reported severe muscular pains in his lower back
Abdulhadi is taking water with glucose so as to not lose consciousness
Doctor has informed him that his situation is serious and that glucose is only a temporary solution
Suger level at 3.1 after glucose
Blood pressure at 95/55
His wife holds the government responsible for "anything" that should occur to Abdulhadi
#Hungerstrike4hadi Campaign
Activist have announced a hunger strike campaign in support of Abdulhadi Al-Khawaja protesting against his arbitrary detention and torture. In videos published, similar to the infamous ALS Ice Bucket Challenge, activists are undergoing hunger strikes for a period of 24 hours and making nominations for people to follow.
28 August 2014 – Fourth Day of Hunger Strike
A hunger strike expert has noted that Abdulhadi Al-Khawaja has approximately 15 days before he risks seizures and slipping into a coma. Abdulhadi is at risk of heart failure everyday after his sugar level dropped from 3.1 to 1.8. According to the expert, 15 days is merely a best case scenario.
27 August 2014 – Third Day of Hunger Strike
Abdulhadi called his wife

His weight went down from 63 to 58
His blood sugar has gone down from 3.1 to 1.8
Blood pressure 97/55
Voice was a little weak
He's started to take salt in his water so as not to lose concentration.
A Doctor and nurse visit every two hours and videotape
The Public Prosecution visited him yesterday to get a statement
He demanded his release
Doctor asked him to take IV treatment but he refused
26 August 2014 – Second Day of Hunger Strike
On Monday the 25th of August 2014, Abdulhadi Al-Khawaja sent an official letter to the director of Jau Prison and to the related official and judicial parties, to inform them of his beginning an open hunger strike in protest against the continuation of arbitrary detention. In this letter, he mentioned his case and the decision of the arbitrary arrest committee of the united nations which, after studying his case file, stated this his detention is considered arbitrary.
Mr. Al-Khawaja clarified in this letter his complete refusal to receive any kind of intravenous fluids or to be transferred to the hospital, including Jau prison clinic. His reason for this is what he was subjected to during his previous hunger strike (which lasted from the 9th of February to the 28th of May 2012) as he was forcibly transferred to the Bahrain Defence Force hospital (BDF), where he was forced to stay in isolation for a long period and was intermittently forbidden any contact with his family, lawyer, or the Danish embassy. This absence of communication was taken advantage of by the government to feed the media incorrect information. The intravenous fluids were also used to administer an anaesthetic which caused him to lose consciousness long enough for them to tie him to the hospital bed and forcibly feed him through a nasogastric tube. This was done despite promises made to the contrary in front of the international red cross and the danish ambassador. Mr. Al-Khawaja also mentioned what his daughter, Zainab Al-Khawaja, was subjected to when she attempted to visit him at the Fort Clinic and the BDF hospital as she was mistreated and detained, and then taken to court after they falsely accused her of assaulting security personnel.
Finally, Mr. Al-Khawaja stated that during this hunger strike he will be refusing all food and drinks except water, and consents to having tests done in the prison building he is currently detained along with 12 other activists and political leaders who were arrested following the events of February 14, 2011.
Mr. Al-Khawaja was visited by the officer on duty yesterday afternoon to inform him that his letter has been delivered to the officials, in an attempt to convince him to end his hunger strike. He visited him again at 9pm along with the prison physician who attempted to convince him to agree to have intravenous fluids administered as the tests showed that his blood sugar levels had dropped to 3.7 mmol/L. Al-Khawaja refused.
As of this morning Mr. Al-Khawaja's blood sugar level reached 3.1 mmol/L and his weight is 63 kg.
25 August 2014 – Abdulhadi Al-Khawaja enters hunger strike
Prominent human rights defender and founder of the Bahrain Centre for Human rights (BCHR) and the Gulf Center for Human Rights (GCHR), Abdulhadi Al-Khawaja, has declared an open hunger strike "in protest against the continuation of arbitrary arrest and detention." In a statement made to members of his immediate family during a visit today, Mr. AlKhawaja declared that he would refuse all food and liquids with the exception of water. He also informed his family that due to the drugging, force feeding and the forced ending of his last hunger strike, he will also refuse to be taken to any hospital, the prison clinic or to receive any IV treatment during his strike.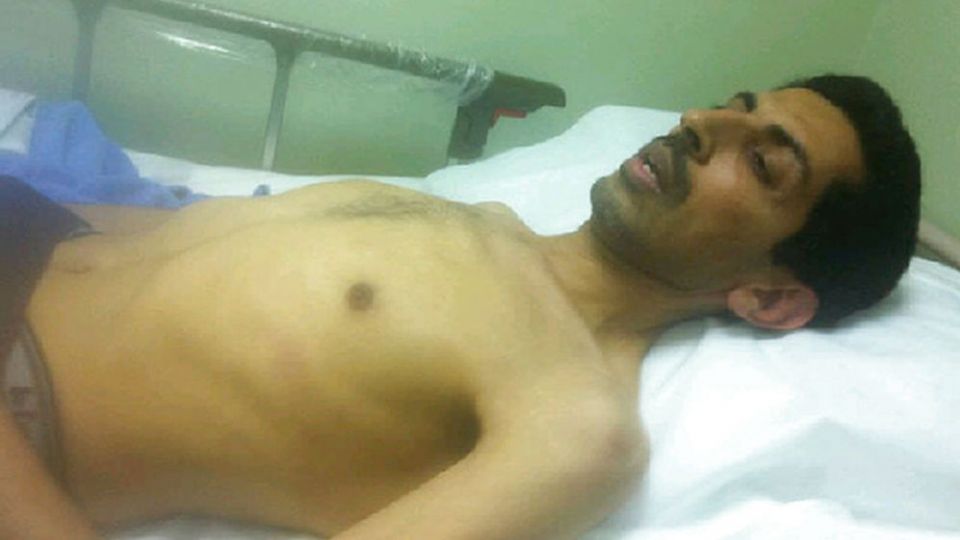 Biography
Date of Arrest: 9 April 2011
Prison Sentence: Life
Torture: Severe battery, standing with hands above head for hours, sodomization.
Health: Health care needed, denied adequate medical treatment.
Whilst in exile, Abdulhadi Al Khawaja started life in Denmark with his wife and four daughters between 1981 and 2001, and received training on human rights in the Danish Centre for Human Rights. Inspired by the social and political system of Denmark, Al Khawaja dedicated his life and aspirations to achieving democratic and social reform for Bahrain which, for two centuries, has had in place a ruling dynasty discriminating against a majority population. He is a member of Frontline Defenders and has helped in setting up the Bahrain Centre for Human Rights where he worked as the director. He is also the director of the Gulf Centre for Human Rights.
Al Khawaja's strive for human rights has not ended, even behind bars Al Khawaja still spent time in educating the prisoners of their rights. His daughter, and also prominent rights activist Zainab Al Khawaja speaks that: "When his two-month solitary confinement came to an end, my father engaged in discussions in the prison, continuing to spread human rights education and the example of nonviolent protest. My father gave the other political prisoners a full course in human rights. He then asked the commander of the prison for paper so he could write certificates for his fellow inmates to document that they had completed a human rights education course".
As communicated through a letter he sent from prison, Khawaja has paid a price for his continuing struggle for freedom, a price that he says, does not regret. He has been severely beaten throughout his years of activism, arrested in 2004, 2005 and 2006 for protesting, subjected to torture, travel bans, 'continuous defamation campaigns' and since being arrested during the current uprising, held behind bars. Khawaja speaks of the two months he was tortured, insulted and sexually abused, the horrific darkness of solitary confinement and the humiliation of being brought upon military trials. 48 Rights groups around the world, including Amnesty International and Human Rights Watch, have been calling for the immediate release of Al Khawaja.
Download Abdulhadi's card here.
Court Testimony
Bahrain Independent Commission of Inquiry
CASE NO. 8
P.438
(Examined by forensic team)
Date of statement: 3 August 2011
Statement: The detainee was arrested on 8 April 2011 while staying with his daughters. Police and masked men in plain clothes came to the house at night. The detainee was thrown on the ground, rolled down stairs, kicked and beaten with sticks. His hands were cuffed behind his back and he was blindfolded. His son-in-law was also arrested. Immediately after the arrest, the detainee received a hard blow to the side of his face, which broke his jaw and knocked him to the ground. He was taken to the MoI clinic and then the BDF Hospital where he had major jaw surgery for four broken bones in his face.
The detainee spent approximately seven days in BDF hospital. He was blindfolded the whole time and handcuffed to the bed with tight cuffs. When he asked the hospital staff to loosen the cuffs, they refused. Security personnel in the hospital threatened him with sexual abuse and execution. They also made sexual threats against his wife and daughter. The doctor told the detainee that he needed three weeks of care but he was taken to Al Qurain Prison after only six or seven days.
At Al Qurain Prison, the detainee spent two months in solitary confinement in a small cell measuring approximately 2.5m x 2m. He did not know where he was or what day it was. There was no fresh air. He was hooded whenever he went to the toilet. Eight days after his surgery, regular beatings started at night. Masked guards cursed him and hit him in his head and hands, causing swelling. They forced a stick into his anus. He was also beaten on the soles of his feet (falaka) and on his toes. He went on a hunger strike because he could not bear the conditions. After three days he became so weak that he could not stand. He was asked to sign a document stating that he was refusing to take his medication and food. He was taken to the clinic and put on a stretcher. His ankles and one arm were tied to the stretcher and an intravenous line was inserted despite his refusal to have this procedure performed. He was threatened with a nasogastric tube or PEG (tube placed surgically through the skin into the stomach), and he agreed to stop the strike. The following day he saw a doctor. One side of his face felt paralysed. The beatings resumed after three days and he resumed his hunger strike. He asked to see a surgeon for his surgical wound and the paralysis in his face, and a surgeon was brought to see him. In total, the detainee went on three hungers strikes, the longest of which lasted three days.
The detainee was routinely beaten before and after interrogation by men in civilian clothes and masks. He had bruises all over his body and was seen by nurses. A "forensic doctor" came with a masked guard to see him after he had been in detention for about three weeks. In the three days prior to the doctor's visit, the detainee was not beaten during interrogations. The doctor documented injuries to his feet and right wrist. On 4 or 5 May, the detainee was forced to apologise to the King. At one point he was taken to another location where he was put in a bed and threatened. A man's penis was put in his face and on his back. His head hit the floor and he passed out and awoke in the car. He was subsequently returned to his cell. A surgeon came to see him and was angry that the surgical wounds were now more swollen.
On 8 May, the detainee went to court and was cursed and sexually harassed in the car on the way there. He was taken to the side of the court for "executions". A guard told him, "It is a long time since we executed anyone." The detainee told the judge about the sexual harassment and beatings in prison. As punishment, he was punched and kicked, and left in the sun blindfolded for 45 minutes with his hands raised. He was sentenced to life in prison, at which point he raised his hand and said, "We will continue this struggle for human rights." In response, he was beaten by the guards. He was handcuffed behind his back, his nose was hit against the wall and he was hit on his face, left wrist and right leg. On 22 June, he was taken to the emergency room at BDF hospital.
The detainee has lost 12 kilograms during his time in detention. He suffers several physical ailments including the following: lower spine pain when sitting; right elbow pain; right lateral ankle pain; left facial pain; numbness and gum pain; and he cannot open his mouth normally. He feels startled whenever he hears the sound of a door. He sleeps only two or three hours per night. The worst experience for him has been hearing other people being tortured and not being able to help; this has caused him to feel ashamed.
International Action
"I am deeply concerned for the health of my dear friend and comrade in the struggle for justice" … "I wish to express my complete solidarity and absolute support for my fellow human rights defender Abdulhadi Al-Khawaja who has always supported us in the worst moments…" … "I call on the international community to act to save the life of one who has always defended those principles which we all hold so dear – human dignity and freedom" … "the international community must not remain silent and passive in the face of injustice".
Front Line Defenders: solidarity statement by Sahrawi Human Rights Defender Aminatou Haidar  – 25 March 2012.
Andrew Anderson: "We are gravely concerned for his health and wellbeing. We urge anyone who can to join in calls for his release." … "We heard horrific accounts of torture and ill-treatment…"
Front Line Defenders: Director Mary Lawlor and Deputy Director Andrew Anderson  testimony at the Joint Committee on Foreign Affairs and Trade at the Irish Houses of the Oireachtas – 15th February 2012.
"The evidence is clear that al-Khawaja and others were sentenced in violation of their rights to freedom of expression, assembly and association, which are protected under international law. We are deeply concerned about the health of human rights defender Abdulhadi al-Khawaja."
Freedom House: Letter to Barack Obama calling for the release of Abdulhadi Al-Khawaja – 9 April 2012.