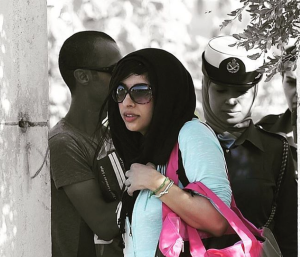 31 May 2016 – Bahrain released human rights defender Zainab Al-Khawaja from prison today. The release comes nearly two months after the Government of Bahrain promised her freedom, in a week full of negative human rights violations. Ms Al-Khawaja's charges still stand, and there is a threat that she will be returned to prison.
Sayed Ahmed Alwadaei, Director of Advocacy, Bahrain Institute for Rights and Democracy (BIRD: "Let's be clear that Bahrain is releasing Zainab Al-Khawaja as a PR stunt. She should never have been in prison to begin with, and in the last twenty-four hours, Bahraini courts increased an opposition leader's prison term from four year to nine, rendered over twenty people stateless and upheld the death sentences of torture victims."
Police arrested Ms Al-Khawaja in March this year to begin serving a 37-month prison term over several charges related to her exercise of freedom of expression and her peaceful dissent against the Bahraini government.
In an open letter Ms Al-Khawaja wrote and smuggled out of prison, she wrote "My cause is the cause of my people. If nothing changes for the people of Bahrain, then my staying in jail or release is not of great consequence."
Her release comes a day after an appeals court increased the sentence of opposition leader Sheikh Ali Salman from four to nine years in prison. The appeals court found him guilty of "attempting to overthrow the regime", a charge he was acquitted of last year. Today, in another high-profile political case, former leader of the secular Wa'ad political society Ebrahim Sharif appeared in court to appeal his 1-year sentence on charges related to his free speech. His case was postponed.
Zainab Al-Khawaja's release also comes hours after an appeals court upheld the death sentence. BIRD documented allegations of torture surrounding the original criminal trial in 2015. The past two days also saw 23 individuals stripped of their citizenship, twelve yesterday and eleven today. They are likely to have been rendered stateless.
Yesterday, UK Foreign Secretary Philip Hammond met King Hamad in Bahrain. In a statement, he welcomed Bahrain's "commitment to continued reforms."